Theresa Mazzitti-Stellini
September 18 1974 - August 8 2022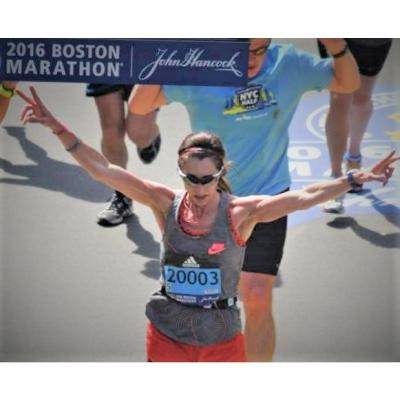 FAMILY AND FRIENDS ARE ASKED TO GATHER AT THE CHURCH FOR HER FUNERAL MASS.
Visitation :
John Quint Treboni Funeral Home
Tuesday August 16th 2022 4-7 p.m.
1177 W. 5th Avenue
Columbus Ohio 43212
Map
Services:
Funeral Mass
Wednesday August 17th 2022 at 10:30 am
Our Lady of Victory
1559 Rosbury Road
Columbus , Ohio 43212
Map
---
---
---
Obituary
Theresa Michelle (Mazzitti) Stellini, 48 of Dublin, Ohio passed away on Monday, August 8, 2022. She was born on September 18, 1974 in Passaic, New Jersey the daughter of Dane L. and M. Linda Mazzitti. She was baptized according to the Rite of the Roman Catholic Church on October 6, 1974 at the Church of St. Joseph in Berwick, Pennsylvania. As a child, Theresa suffered with eocenophilic asthma. A testament to her strength and determination is that as an adult, she became a dedicated marathon runner. She completed many challenging runs including Boston and New York Marathons. She considered her greatest achievement in life to be giving birth to her two sons, Trevor Michael and Vincent Xavier Palicki. She loved and cherished them beyond all reason. They were her world. Beside her when she passed was her loyal Service Dog and companion, LuLu. Theresa called her LuBug because she was and is such a little "love bug". At times it was impossible to discern "Who rescued whom?". Theresa, or Trese as her Bishop Watterson High classmates called her was an average student who went on to become a dedicated health care administrator. She was an Econ/Finance graduate of Capital University and completed Masters in Business and Health Care Administration at Xavier University. She is preceded in death by her grandparents; Jean and Theresa Harris, and Massimo and Roberta Mazzitti. Theresa is survived by her loving children; Trevor and Vincent' her mother Linda Mazzitti, her father Dane Mazzitti, and stepmother Denise. She will be sorely missed by all who knew and loved her. Throughout her time on this earth she had great joy and many struggles. She is at Peace in His Loving Hands. When you think of Theresa celebrate the beautiful memories and know that life is fragile and must be lived to the fullest. In lieu of flowers please consider donating to Right to Life or the Brian Muha Foundation. A visitation will be held at the John Quint Treboni Funeral Home, 1177 W 5th Ave, Columbus, Ohio 43212 on Tuesday, August 16, 2022 from 4-7 pm. A Funeral Mass will be held on Wednesday August 17, 2022 at Our Lady of Victory Catholic Church, 1559 Roxbury Road, Columbus, Ohio 43212 at 10:30 am. Condolences may be sent via www.johnquint.com
---
Contributions
Contributions may be directed to any of the following
---
Condolences for Theresa Mazzitti-Stellini
---
From : The Brian Muha Memorial Foundation
To : The Family of Theresa Mazzitti-Stellini
Date: August 25th 2022
Dear Friends, please accept our deepest condolences on the death of your dear loved one, Theresa. We are so sorry. We know you will miss her and we also know that your good memories of her will help ease the pain a little. A good person named Penny Cowdery made a donation to us in Theresa's memory - a testimony to how much she is loved. We pray for God's consolation for you. God bless you, Rachel Muha - The Brian Muha Memorial Foundation, Inc.
---