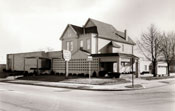 The funeral home is family owned and operated. Anna Quint Treboni (2nd generation) and Anthony L. Treboni (3rd generation) are here to serve the central Ohio area and to carry on John F. Quint's Legacy.
We have become one of the most respected funeral homes in the Central Ohio Area. Family owned and operated, we offer a spacious, well-maintained facility with ample parking and a wide variety of products and services that will exceed your expectations.
A funeral is an event designed to memorialize or celebrate a life. It is a time when family and friends become one. It is no surprise to us that planning a funeral can be an emotional and financial burden on loved ones.
Our focus is to share information that will help you through this planning process. We are confident that we can give you the tools needed to achieve a memorable
At John Quint Treboni Funeral Home your arrangements start and finish with the same counselor. It is important to us to form a lasting relationship with every family we serve.