Teresa Capoziello
September 13 1931 - September 24 2023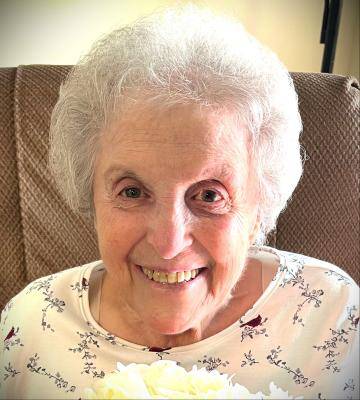 Visitation :
John Quint Treboni Funeral Home
Thursday September 28th 2023 3-5pm
1177 W. 5th Avenue
Columbus Ohio 43212
Map
Rosary at 5pm by Fr. Andrzej Kozminski
Services:
Funeral Mass
Friday September 29th 2023 at 10:30 am
St. Paul the Apostle Catholic Church
313 North State St.
Westerville , Ohio 43082-8825
Map
Friends and Family are asked to meet at the Church
---
---
Obituary
Teresa DeLuca Capoziello, age 92, of Westerville, passed away peacefully on Sunday, September 24, 2023. She enjoyed spending time with family and friends, cooking the best Italian feasts, shopping, and was a fantastic seamstress. Family meant everything to Teresa. She always made sure we were all together for birthdays and holidays with a wonderful spread of her and our favorite foods. Teresa was a former, longtime member of St. Anthony Catholic Church and current member of St. Paul the Apostle Catholic Church. She was preceded in death by her loving husband, Ralph Capoziello in 2007; parents, Vito and Elena DeLuca of Faeto, Foggia, Italy; brothers, Paolo DeLuca and Raffaello DeLuca of Rome, Italy; sister and brother-in-law Grazia (Rocco) Squeo of Rome, Italy; and brother-in-law Mimi DiTaranto of Teramo, Italy. Teresa is survived by daughters, Linda (Peter) Cuzzolini of Ashland, Elena (Kevin) Patton of Westerville; son, John (Jane) Capoziello of Lewis Center; grandchildren, Maria (Nick) Kendall, Marco Cuzzolini, Angela Patton, Leo and Luke Capoziello, and great-granddaughter Ariana Kendall; sisters, Evana Di Taranto, Teramo, Italy, Elda (Carlo) Pastorella of Vieste, Italy and, sister, Suor Marisa DeLuca, Barre, Italy; sisters-in-law, Graziella DeLuca and Nonni DeLuca of Rome, Italy, and numerous other nephews, nieces, and close friends. John Quint Treboni, 1177 W 5th Avenue, Columbus, Ohio 43212 is honored to serve the family with a visitation on Thursday, September 28, 2023, from 3-5 pm with a Rosary at 5 pm. A Mass of Christian Burial will be held at St. Paul the Apostle Catholic Church, 313 North State Street, Westerville, Ohio 43082 on Friday, September 29, 2023, at 10:30 am with a procession to St. Joseph Cemetery, 6440 S. High Street, Lockbourne, Ohio 43137. Friends who wish may contribute in memory of Teresa to St. Vincent DePaul or St. Paul the Apostle Catholic Church, 313 South State Street, Westerville, Ohio 43082. Condolences may be sent via www.johnquint.com
---
Contributions
Contributions may be directed to any of the following
---
Condolences for Teresa Capoziello
---
From : Mike and Sandy Capoziello
To : Our Cousins
Date: September 26th 2023
My dearest cousins Linda (Pete), Elena ( Kevin ), John ( Jane ) and your families,
We are heartbroken when we heard the news of Aunt Teresa's passing. Everyone is in our thoughts and prayers. May you find comfort in God's love who has his arms wrapped around you during this difficult time.
Both of our mothers , Mamie and Teresa go back over sixty-seven years. They were newlyweds with Uncle Ralph and Uncle Al. Mamie welcomed and watched over Aunt Teresa when she arrived from Foggia, Italy. They had a special bond and celebrated many family events with each other.
I am blessed that God and my parents chose Aunt Teresa and Uncle Ralph to be my Godparents. Many special memories of growing up and spending time with them and my cousins. Aunt Teresa was a kind, compassionate, and loving person. She was a wonderful cook and baker. How I remember all the different kinds of Italian cookies during the holidays.
Mike and I are always here for everyone. We love you.
---
From : Cindy Sissy Echols Hilling
To : Linda Elena and John and familed
Date: September 26th 2023
My heart goes out to this wonderful family. My mom, Mary Echols, can't wait to see her in Heaven to speak Italian. I was so blessed to spend time with her when I would take mom to visit.
Much love to the family. I love you all.
---
From : Kay Peters
To : Angela Patton
Date: September 26th 2023
I am so very sorry to hear of the passing of your grandmother. With your stories it was obvious she was a very special lady. Prayers for all.
---
From : Lucia
To : De Luca
Date: September 27th 2023
Vi sono vicina con la preghiera e
la ricordo con grande affetto, Lei continua a seguirvi dal cielo, un grande abbraccio.
---
From : Megan Kelly
To : Elena Kevin and Angela
Date: September 27th 2023
I am so very sorry for your loss. You all provided her a wonderful life full of love, laughter, and happiness. She was an exceptional person and I always loved hearing all of the stories about her. Ang, she adored you so much and I know how much you adored her. She will be with you always, no matter what. Thinking of you all.
---
From : Graziella Vito e Stefania De Luca
To : Linda Elena e Gianni
Date: September 27th 2023
Ci stringiamo a Voi in questo momento dolorosissimo e vi siamo vicino con tutto il cuore. Ci mancherà e sarà sempre nei nostri pensieri e la ricorderemo nelle nostre preghiere.
---
From : David and Nancy Randall
To : Linda Elana John
Date: September 27th 2023
Our deepest condolences on the loss of your mom. I remember your mom with fondest memories from childhood. The big family gatherings of the Randalls, Capziellos, and Russolillos. The smells of traditional Italian family recipes filled the whole home wherever we went for the occasion. I remember her smile most of all, she always had one. She will be missed by all. Aunt Teresa rest in peace and rest easy in the Hands of Our Lord.
---
From : Angela Howell and staff
To : Capoziello Family
Date: September 28th 2023
It was a such a great pleasure having Teresa in our community. She brought such joy to us all with her awesome smile and spirit! She will be deeply missed by us all.
---
From : Anthony De Luca
To : Capoziello family and loved ones
Date: September 28th 2023
Our love and prayers are with you during this time. We will cherish all of the memories close to our hearts. My memories of Zia and Zio are still very vivid to this day, for they are wonderful souls and God is happy to have them home.
---
From : Stephen Ricci
To : Linda Elena John along with spouses and grandchildren
Date: October 24th 2023
Sorry for this belated response, but I cannot just allow the passing into eternity of this remarkable woman we knew as "Zia Teresa" to not be acknowledged -at least that was how dad always called her even tho they were like brother & sister with Faetare roots. Though I was young, I do remember her kindness and affection for myself & Lina, just as an aunt would!
May you treasure the memories and take confidence & consolation in the hope as Christians we have in the resurrection to come! Much love, Steve Ricci
---