Teresa Apollonio
January 31 1937 - August 31 2022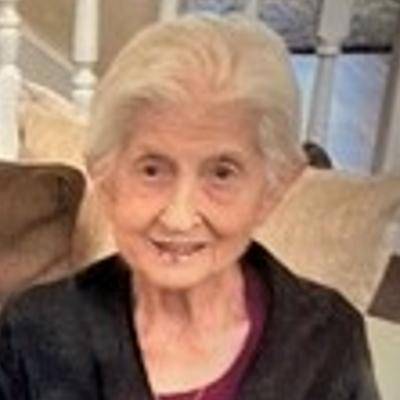 Services:
Mass of Christian Burial
Tuesday September 6th 2022 at 11:00 am
Saint Christopher Parish
1420 Grandview Avenue
Columbus , Ohio 43212
Map
Family and Friends are asked to meet at the Church for her Funeral Mass
---
---
Obituary
Teresa Apollonio, born January 31, 1937 in Cerrito de Vastogirardi, Italy, passed away August 31, 2022 in Columbus, Ohio. Teresa worked as a seamstress with The Union and Halley's department stores until her retirement. After retirement she continued working part time in the extended family's pizza business. Teresa married the love of her life Dante in Italy in 1963. Dante immigrated to the United States shortly thereafter and Teresa joined him in January 1966. They have lived in Columbus, Ohio ever since. She is preceded in death by her parents, Armando and Pompilia Apollonio; and brothers, Felice, Orlando, Amicouce and Luigino Apollonio. Teresa is survived by her husband of 59 years, Dante; son, Anthony (Mary) Apollonio; her grandchildren, Ashley (Bryan) Hairston, Christopher (Madison) Apollonio, and Alexandra Apollonio. She is also survived by brothers, Ottavio (Angeolina) Apollonio, Amico Apollonio and sister Maria Rotolo; nieces, Tiziana (Rick) Sagar, Antonella (Pepe) Trotta and Ilda (Sabatino) Di Lorenzo and Enrica Apollonio; nephews, Davide Apollonio, Andrea (Renata) Apollonio, Paulo Apollonio and Gino (Serena) Apollonio; great-nieces, Cinzia Di Lorenzo and Julia Apollonio; great-nephews, Fabricio Di Lorenzo, Felice Apollonio and Yuri Trotta as well as many other cousins and loving extended family and friends both in the United States and Italy. Teresa will be missed by all who loved her energy, strength, courage and most of all, her cooking. Visitation will be held on Tuesday, September 6, 2022 from 9:30am – 10:30am at John Quint Funeral Home, 1177 W. 5th Avenue, Columbus, Ohio 43212. A Funeral Mass will be held at 11:00am at St. Christophers Catholic Church, 1420 Grandview Avenue, Columbus, Ohio 43212, with a procession following to St. Joseph's Catholic Cemetery in Lockbourne, Ohio. Many thanks go out to all the wonderful people who helped Teresa prepare for her journey to heaven - including but are not limited to Laura, Laura, Malfalda, Dr. Sweeney, Ohio Health Hospices and Visiting Angels. In lieu of flowers the family requests contributions be made in memory of our mother to San Felice fund in Cerreto, Italy, donations can be placed in the provided mass cards at her visitation or at the church. Condolences may be sent via www.johnquint.com
---
Condolences for Teresa Apollonio
---
From : Silvana Rotolo
To : Family of Teresa Apollonio
Date: September 2nd 2022
Our sincerest condolences on the passing of such a lovely person. Teresa was always so kind and thoughtful towards our family, with her phone calls to my parents to check on them or just to pass on greetings. Whenever we visited Columbus, she welcomed us warmly. May you all find comfort knowing that she is resting in peace.
---
From : Alice Black
To : Apollonio Family
Date: September 2nd 2022
We are so sorry for the loss of Teresa. She was a lovely person who was so sweet and also made the best pizzelles! Rest in peace.
---
From : Dee Holleran
To : The Apollonios
Date: September 2nd 2022
We are all so sorry for the loss of Teresa. She helped found a wonderful family. Prayer for all of you. Pat, Dee and Phoebe
---
From : Tina Apollonio
To : Family of Teresa
Date: September 2nd 2022
To a wonderful person who was always kind. She and Danny were always warm and very nice. You're in my thoughts and prayers.
---
From : Valeria and John Gibbs
To : Apollonia Family
Date: September 5th 2022
Teresa, with Dante, was such a joy to visit and sit with, with coffee, a pizzelle or 2, a little Italian and a lot of love, the sun shining on her kind heart, and beautiful roses. Ciao for now, till we meet again, dear one and dear family.
---
From : The Poff Family
To : Apollonio family
Date: September 5th 2022
We are all so sorry for your loss. Thinking of you all and praying for peace.
Love,
The Poff's
---