Silvia Ciotola
July 7 1933 - July 12 2022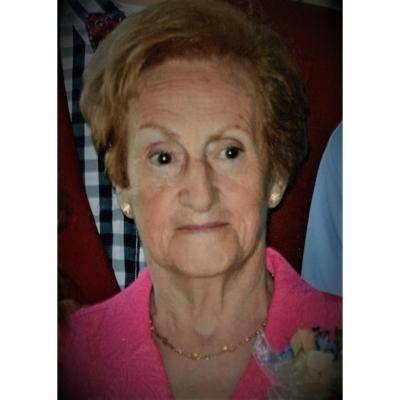 Friends are asked to meet at Chapel for the Funeral Mass. MASKS ARE REQUIRED
Services:
Funeral Mass
Friday July 15th 2022 at 12:00 pm
Our Mother of Sorrows Chapel at St Joseph Cemetery
6440 S High St
Lockbourne , Ohio 43137
Map
---
---
Obituary
Silvia Ciotola, 89, of Upper Arlington peacefully passed away surrounded by her loving family on Tuesday July 12th, 2022. Silvia was born July 7, 1933 in Cerreto, Italy. She was the daughter of the late Antonio and Angela Apollonio. She is preceded in death by her husband, Angelo Ciotola, and mother and father-in-law Concetta & Francesco Ciotola. Also preceded in death by her sister; Concetta (Odo) Rotolo, and brother; Carlo (Maria) Apollonio, as well as brothers and sisters-in-law, many aunts, uncles, cousins and other relatives. In 1963, Silvia immigrated by boat to Canada with her husband Angelo and daughter, Tonia. Shortly after, they celebrated the birth of their son, Robert. Silvia was the "Ultimate Nonna" and truly the caretaker of the family. She loved nothing more than taking care of people, especially her kids and grandkids. In 1970, after Silvia and family moved to Columbus, Ohio, they connected with the rest of the Ciotolas, Apollonios and Rotolos and would become household names in the Columbus restaurant scene. Silvia worked hard preparing delicious meals for so many others over the years, we like to think now she is finally enjoying a meal for herself. Silvia, Angelo, & their families spent many moons in their "happy place", Pompano Beach, Florida, where they made great friends and memories. Silvia is survived by her daughter; Tonia (Wayne) Erdman, and son; Robert (Amy VanDyke). She is also survived by her loving grandchildren; David (Colleen), Daniel (Aly), Andrew (Kim) Erdman, Clay, Jake and Savannah Ciotola. She was blessed with seven great-grandchildren; Ella, Addy, Henry, Cameron, Jack, Danny, and Beau. She also leaves behind her sister; Mafalda Rotolo, sisters-in-law; Joanna Policaro, Italia Ciotola, Maria Ciotola, Evenlina Ciotola and brother-in-law; Joe Milano Sr. She is also survived by many nieces, nephews, cousins and friends in the United States, Italy, and Canada. You were never a stranger at Silvia's table, whether it was your first time there or if she'd met you countless times before, but still butchered your name, and that's why we loved her. We know she's been reunited with Nonno (Angelo) and they are preparing a heavenly feast. May her final journey be filled with peace and love and may the angels lead her to Christ. Rest in Peace Nonna. We love you. The family would like to thank the staff of The Forum at Knightsbridge and Capital City Hospice, all of whom we thank dearly for their care, compassion and support. Mom, you loved us unconditionally, and showed us by example what is most important in life- love, faith, and family; and for that we will be forever grateful. We ask that in lieu of flowers, donations be made to the Alzheimer's Association - alz.org

---
Contributions
Contributions may be directed to any of the following
---
Condolences for Silvia Ciotola
---
From : Caitlin
To : The Ciotola Family
Date: July 13th 2022
I know that Nonna was such a wonderful person and an integral part of your family. Her loss must be a profound one for your family. She impacted your lives in many ways, and you all are stronger because of her. I trust that you will learn how to cherish her in your hearts, even though she is no longer with you. You will come out the other side better for having known her. My thoughts are with you as you walk through these days of grief.
---
From : Elizabeth and Tom Glover
To : THe Ciotola family
Date: July 14th 2022
We are saddened to hear of Sylvia's death.
When we moved next door to her and Angelo she at once brought us food and opened her arms to us with love and friendship.
We loved seeing her out brushing off the front step or out in the back yard and there was always a smile for us.
Our love and sympathy to her family❤%uFE0F
---
From : Cindy Ciotola
To : The Ciotola Family
Date: July 15th 2022
My sincere sympathy in the loss of Sylvia. May God bless you and comfort you in this time of loss.
Cindy and Angelo Ciotola
---
From : Carl and Mary Ann Fielding
To : The Ciotola Family
Date: July 20th 2022
We are so sorry for your loss.
May all your wonderful memories of her bring you comfort.With deepest sympathy, Love, Carl and Mary Ann
---