Ruth Bianco
August 12 1921 - February 11 2023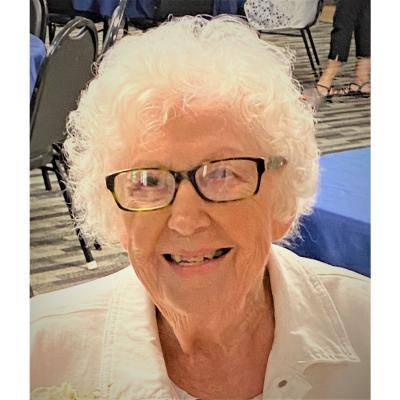 Visitation :
John Quint Treboni Funeral Home
Friday February 17th 2023 9-10:30 am
1177 W. 5th Avenue
Columbus Ohio 43212
Map
Services:
Funeral Mass
Friday February 17th 2023 at 11:00 am
St. John The Baptist Catholic Church
720 Hamlet Street
Columbus , Ohio 43215
Map
---
---
Obituary
Ruth Tharp Bianco, age 101, of Columbus, passed away peacefully on February 11, 2023, from complications of a fall. Ruth was born on August 12, 1921, in LaRue County, KY to Curtis and Edna Tharp. She was the second of three children growing up on the family farm near Sonora, Kentucky. Ruth was a happy and loving child often found cuddling a kitten. Ruth moved to Louisville at age 20 and worked there for many years, including at the famous Brown Hotel. In 1973, she married Angelo Bianco and moved to Columbus. Ruth and Angelo were members of St. John the Baptist Catholic Church. They were active in the city's Italian community. Ruth was a founding member of GALA, the Guild Athletic Club Ladies Auxiliary. Besides her parents, Ruth is predeceased by her beloved husband Angelo, her older sister Juanita Kakalec and younger brother Howard Tharp, and by her nephew Douglas Tharp. She is survived by step-daughter; Mary Bianco Taylor, her grandchildren; David and Julie Keane and niece Colleen Chilcote. Also holding her memory are nieces Donna Jensen and Carol Kohn, nephews Dean Tharp and Dana Tharp and many great nieces and nephews and special friend Cheryl Nuber. We were privileged to celebrate Centi'Anni with Ruth in 2021, and we will hold the light of her smile and the joy of her laughter in our hearts. May her repose be blessed and her memory eternal. The family will receive visitors on Friday, February 17, 2023 from 9-10:30 am at the John Quint Triboni Funeral Home, 1177 W 5th Ave Columbus, Ohio 43212. A Mass of Christian Burial will follow at 11 am at St. John the Baptist Catholic Church, 720 Hamlet Street, Columbus, Ohio. Burial will follow at St. Joseph Cemetery, 6440 S. High Street, Lockbourne, Ohio 43137. Condolences may be sent via www.johnquint.com
---
Condolences for Ruth Bianco
---
From : Rose Fancelli
To : The family of Ruth Bianco
Date: February 14th 2023
You have my deepest sympathy at the passing of Ruth. I met Ruth when I joined GALA. She was very outgoing with always had a beautiful smile to greet everyone. I sorry that I can't attend the viewing and funeral but I will keep Ruth and her family in my prayers.
---
From : The Ladies of the GALA
To : Family of Ruth Bianco
Date: February 16th 2023
In 1980, Ruth was one of the original four founders of our club and over the years became the most beloved member of the organization. Her joy, her love and her indomitable sprit will be with us always. We are all better for having known her. Rest in peace, dear Ruthie!
---
From : Kelli Forsythe
To : Mary Lou
Date: March 11th 2023
I just saw this. Sending prayers. So many happy and beautiful memories I hold in my heart.
---
From : Carlo Cautela
To : Angela and Annie
Date: April 27th 2023
Angela and Annie , Im so sorry to hear of Ruths passing. Angelo and Ruth were always so nice to me when I saw them and Our Prayers are with you both and family ! Miss you two , has been a long time. Love the Cautela's !
---