Rosemary Schultz
July 17 1933 - May 16 2023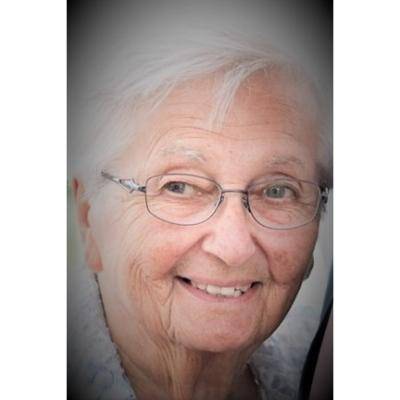 Visitation :
John Quint Treboni Funeral Home
Monday May 22nd 2023 10am - 12pm
1177 W. 5th Avenue
Columbus Ohio 43212
Map
Services:
Celebration of Life
Monday May 22nd 2023 at 12:00 pm
John Quint Treboni Funeral Home
1177 W. 5th Avenue
Columbus , Ohio 43212
Map
Procession to Resurrection cemetery to follow the Celebration of Life Service
---
---
Obituary
Rosemary Elizabeth Schultz, age 89, passed away peacefully on May 16th 2023 in the early morning hours with her daughter Jackie by her side. Rose was born on July 17th, 1933, one of ten children of Italian immigrants, Christopher and Isolina (Lalli) Lombardi. Preceded in death by her husband, Robert James Schultz, Jr.; her brothers, Adam, Ed, Joe; and sister, Stella. Rose is survived by children, Bobby, Jackie, Cindy (Lewis), Karin (Jeff), John, and Rick; her grandchildren, Trey, Elizabeth, Zachary, Christopher, Hana, Frankie, Levi, Ava, and great-granddaughter Roselyn. She is also survived by her best friend and sister Gloria Lombardi, sisters, Carolyn, Carole, Jane; and brother, Fred; along with many loving nieces and nephews. Rose was a friend, sister, and mother to many along with caregiver to her late husband. She valued family, food, cards and a good Notre Dame game. The family members would like to give a special thank you to Country View Nursing Home and Bella Care Hospice for treating Rose like their own. A visitation will be held on Monday, May 22, 2023 from 10am - 12pm at the John Quint Treboni Funeral Home, 1177 W 5th Avenue, Columbus, Ohio 43212. A Celebration of Life service will follow at noon with a procession to Resurrection Cemetery, 9571 High Street, Lewis Center, Ohio 43035. Condolences may be sent via www.johnquint.com
---
Condolences for Rosemary Schultz
---
From : Amy McCombs Fredrick
To : The Schultz Family
Date: May 17th 2023
Your mom was absolutely the best! I worked with her for many years and loved every minute I spent with her! She loved her family. I know you will miss her, but she will always be with you. Watch for her, she loves fun too much to not be around!
---
From : Tony Polletta
To : The Schultz Family
Date: May 18th 2023
Your mom loved her family and friends passionately and joyfully. I have so many great memories of the times our families spent together, and what I remember most is your mom's smile and laughter. I'm sure you are grieving, but I hope that remembering how much she loved you gives you comfort. Take care, friends.
---
From : Kayla Busby
To : Jackie
Date: May 18th 2023
I absolutely adored caring for your mom and in many ways she cared for me and made my life so much better as well! She was always so full of the best compliments and could put a smile on anyone's face! My heart goes out to you and your family with such a huge loss. I hope you find comfort in the fact that she's no longer suffering and gets to be with her hubby again! Please don't hesitate to let me know if you need anything at all! 740-899-0126. Love you girlfriend!!!
---
From : Lisa
To : All of Rosemarys family
Date: May 18th 2023
My thoughts and prayers go out to all of you. Rosemary was one of the best and has touched the lives of so many people. I know she will definitely be missed dearly. Please remember, it's never goodbye but rather until we meet again. Sending lots of love and big hugs to all of you. God Bless!
---
From : Kali Sexton
To : Jackie and Schultz Family
Date: May 18th 2023
My sincerest condolences for you all at this time. You have my deepest sympathy .Wishing you peace, comfort, and lots of love at this time of sorrow. I really enjoyed the time your family allowed for me to care for such a sweet and entertaining person. My two daughters that came to work with me really enjoyed visiting and entertaining Rosemary.
My heart goes out to you at this difficult time. She will always have a special place in our hearts. Thankyou again for sharing such a wonderful person with us 🤗. Kali Sexton and her girls.
---
From : Eileen Huber
To : The Schultz Family
Date: May 19th 2023
It was truly an honor and a blessing to care for your mom. She always put a smile on my face and I looked forward to seeing her each week. Thank you so much for sharing her with me. She was so very blessed to have children as dedicated and loving as you. I am grateful for the stories you shared with me those last days. Please know you remain in my prayers and don't hesitate to reach out if you need anything.
---
From : Jackie Polletta
To : Family of Rosemarty Schultz
Date: May 20th 2023
Dear family, We are
so sorry for the loss of your mom, the dearest person in your lives. You were lucky to have her all these years, but that doesn't mean the pain is less. We remember her fondly. Accept our deepest sympathy, our thoughts are with you and you will be remembered in our prayers.
With love,
Jackie Polletta & family
---