Richard Miller
January 30 1931 - August 8 2023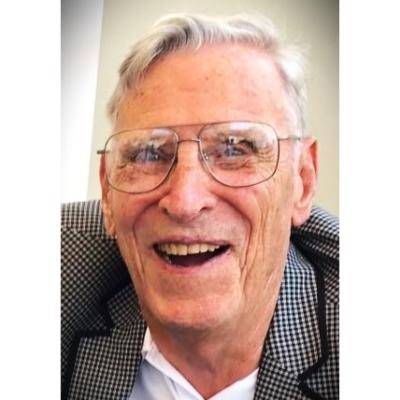 Visitation :
Our Lady of Victory Catholic Church
Friday August 11th 2023 10-11 AM
1559 Roxbury Road
Columbus Ohio 43235
Map
Services:
Funeral Mass
Friday August 11th 2023 at 11:00 am
Our Lady of Victory Catholic Church
1559 Roxbury Road
Columbus , Ohio 43212
Map
---
---
Obituary
Richard (Dick) Lloyd Miller, 92, of Columbus, Ohio passed away on August 8, 2023, at his home. He was preceded in death by parents Nolan and Lola Miller, William Kominowski, Robert Kominowski, Raymond Kominowski, Joanne Capp, Shirley Kominowski, and his beloved wife, Emilie of 70 years. He is survived by his 7 children, Mark Miller, Steven Miller (Pamela), Debra Militaru (Calin), Catherine Benson (Steven), Lisa Schechter (John), Christopher Miller (Cheryl), David Miller (Joanie); 13 grandchildren, and 19 great grandchildren and sibling Sharon Metcalf. Born on January 30th, 1931, in Mishawaka, Indiana. He married Emilie Clara Adamski on February 2nd, 1952, at St. Joseph Church in South Bend, Indiana. Richard graduated from Mishawaka High School in Mishawaka, Indiana. He entered into the army September of 1951. He served in the Korean War as a platoon tank commander and was honorably discharged as Sergeant First Class in September 1954. He graduated from Purdue University in 1957 and went on to receive his Master's and PhD in Entomology from Iowa State University in January 1962. From 1962 to 1966 Richard served as Extension Entomologist at the University of Kentucky in Lexington. In 1967 Richard took the position of Extension Entomologist at The Ohio State University. He remained there until his retirement in 1988. Education was very important as he was the only one in his family to attend college. Richard loved his church, family, neighbors, friends, and children. As a 58-year member of Our Lady Victory Church (OLV) he was a lector, trained altar servers, did landscaping, flower sales, built the mediation garden, started the OLV fish fries, member of Knights of Columbus, sacristan at funerals, and assisted with parish festival activities. Richard's faith was central to his life. He attended Mass daily almost to the very end of his life. He recited the Divine Mercy Prayer daily and had a strong devotion to the Blessed Mother as a result of a life changing trip to Medjugorje. Richard loved volleyball and played every week until his mid 80's. He helped build numerous 4th of July neighborhood floats. He was an awesome cook and baker, spent much time in the garden having had a green thumb - he could get anything to grow! He loved to fish and took many trips to Lake Erie, Canada, and deep-sea excursions. He especially loved the beach at Surfside, SC often finding sharks teeth on his morning walks. A special thank you to Kim Buscemi, caregiver, for her loving care of Richard this past year. A viewing at 10:00am followed by Mass at 11:00am on Friday, August 11, 2023 at Our Lady of Victory Church 1559 Roxbury Rd. Columbus, Ohio 43212. Procession to St. Joseph Cemetery, 6440 S. High Street Lockbourne, Ohio 43137. Richard often said, "God Bless America", so in lieu of flowers you can make donations to Honor Flight. Condolences may be sent via www.johnquint.com
---
Contributions
Contributions may be directed to any of the following
---
Condolences for Richard Miller
---
From : Patty and John Johannessn
To : Miller Children
Date: August 10th 2023
We send our prayers for comfort during this time. Your Father was a man we wish we had known longer. Cathy shared so many wonderful things about him! What a life well lived. Patty and John
---
From : Melanie and Craig Hollenback
To : Cathy and Steve Benson and family
Date: August 10th 2023
To the Miller Family, May you celebrate this wonderful life that your father had not only on this earth but more importantly have in the eternal life with Our Lord and Savior. We offer our deepest condolences and will be praying for peace and comfort for your whole family! We will always remember Richard for his thoughtfulness and his love for Jesus! We love you all and know you'll all be in our thoughts and prayers.
---
From : Tom and Kathy Brzezinski
To : The Miller family
Date: August 10th 2023
Our heartfelt sympathy goes out to the Miller family. We were sadden to hear of the passing of your father so soon after your mother's passing. They will be remembered in our prayers. It is our hope that your families can find solace in their remembrance. They were kind and gracious people. Rest in peace.
---
From : The Finches
To : Deb and Miller family
Date: August 13th 2023
May God's peace continue to rest upon all Miller descendants and extended family as you process this major loss and redemption transition . You are in my heart, thoughts and prayers. I can remember during college at OSU just how welcoming your dad was with hospitality at the family home. He was smiling, lighthearted, cooking, gardening, a true gentleman , and a vibrantly intelligent man. His faith walk ,deep love for his family , and encouragement of others was evident throughout his lifetime . He provided a secure home foundation. He lived such an honorable career of steadfast service filled with radiant hope , wisdom in Christ , sharing his highly respected education , and beautiful family values with all of us! In Gratitude ,condolences and love to all who have been blessed by him.
---