Richard McCombs
April 9 1932 - July 7 2022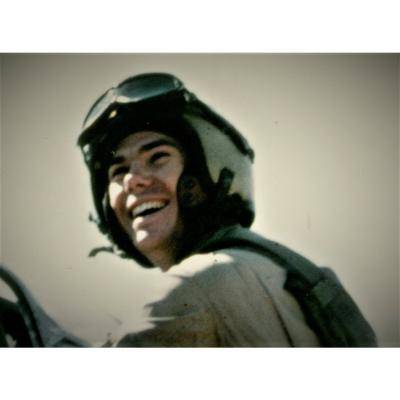 All services private.
---
---
Obituary
Richard Lee McCombs of Upper Arlington, Ohio, passed away peacefully on July 7, 2022, at First Community Village, Upper Arlington, Ohio. Richard was born on April 9, 1932 in Long Beach, California, to Charles McCombs (USN R. Admiral Retired) and Bernice McCombs. Richard attended Upper Arlington High School and graduated from Washington-Lee High School in Arlington, Virginia. While a student at Washington-Lee, he was active in Crew serving as coxswain; His team was victorious while competing in the 1949 National Regatta. A 1954 graduate of the Ohio State University, Richard was a member of Alpha Tau Omega fraternity, the Naval Reserve Officers Training Corps, and earned letters in Cheerleading, Lacrosse and Soccer. Following graduation with a Bachelors of Fine Arts degree, he entered the United States Marine Corps; He earned his Wings as a Naval Aviator on August 8, 1956, and qualified as a carrier pilot in Pensacola, Florida. While in training in Pensacola, he met US Navy Nurse Florence Kruszewski; They were married on December 3, 1955. Richard had an extensive USMC aviation career, from the Grumman F9F, Douglas AD Skyraider and later the HRS helicopter. On January 31, 1957, while stationed at NAS Opa-Locka, Richard executed a textbook non-powered water landing of his AD Skyraider near Miami Beach following a catastrophic engine failure and was rescued by Helicopter. Following his military service, Richard worked as a commercial artist and advertising executive, ultimately creating The Copy Shop printing business. In later years, he was active in The Quiet Birdmen, Northwest Kiwanis, and the Central Ohio MG Owners club. Richard was preceded in death by his parents and his wife of 67 years "Cookie" McCombs. He is survived by children; Tim (Barbara) McCombs, Mark (Mary) McCombs, and Amy Fredrick, grandchildren; Megan (Seth) Heydlauff, Ben (Jenn) McCombs, Paige Fredrick, Matthew (Caroline) Fredrick, Andrew McCombs, and James McCombs, great-grandchildren; Sam and Annie Heydlauff, all of Columbus, Ohio, and brother-in-law; George Kugler of Wernersville, PA. Richard was a creative and talented artist, proud Marine and was extremely well-traveled. He was a dedicated Husband, Father, Grandfather and Great Grandfather who encouraged excellence in all endeavors. Richard will be inurned at a later date at the Chapel of St. George, Gethsemane Cemetery, Reading, PA. Condolences may be sent via www.johnquint.com
---
Condolences for Richard McCombs
---
From : Vickey Burke
To : Mark and Mary McCombs
Date: July 17th 2022
Mark and Mary
So sorry to hear of your Dad's passing. Know that we wish you prayers and peace during this hard time. Thinking of you and your family.
Vickey, Patrick and Catherine Burke
I
E
---
From : Barry McMahon
To : Tim and Barb McCombs
Date: July 17th 2022
Saddened to see the news about you dad. Was quite a journey. My thoughts are with you.
---
From : Ed Lukens
To : Tim and Barb McCombs
Date: July 17th 2022
I'm very sorry to learn of your dad's passing. His obituary chronicles his amazing life. You and all of your family are in my prayers.
---
From : Howard Warner
To : McCombs Family
Date: July 17th 2022
So sorry for your loss. I had the pleasure of being a friend of Dick McCombs for the passed 30 years or more.He was a true friend and will truly be missed by many.He gave to God, family and his country in so many ways. If you had Dick as a friend you were a lucky person. He did so much for so many , never wanting to be recognized. He was from the greatest generation and a true hero in my eyes. God bless you Dick and my you rest in peace.
---
From : ROGER MALONE USMC
To :
Date: July 17th 2022
ROGER USMC
IT CANNOT BE INHERITED NOR CAN IT EVER BE PURCHASED.
YOU AND NO ONE ALIVE CAN BUY IT FOR ANY PRICE.
IT IS IMPOSSIBLE TO RENT AND CANNOT BE LENT.
YOU ALONE AND OUR OWN HAVE EARNED IT WITH YOUR SWEAT, BLOOD AND LIVES.
YOU WON IT FOREVER.
THE TITLE
UNITED STATES MARINE
GO WITH GOD MY BROTHER
SEMPER FI
---
From : Jack Cowan
To : tim McCombs
Date: July 18th 2022
Hey Tim, read of your father passing. You may remember me from The Columbus Athletic Club. Your dad was part of our QB group and greatly admired. We can ill-afford to lose such me from our inventory. Best to you and your family in this difficult time.
---
From : Members of Northwest Kiwanis
To : McCombs family
Date: July 19th 2022
Deepest sympathy
---