Ralph Orban
August 1 1941 - January 1 2023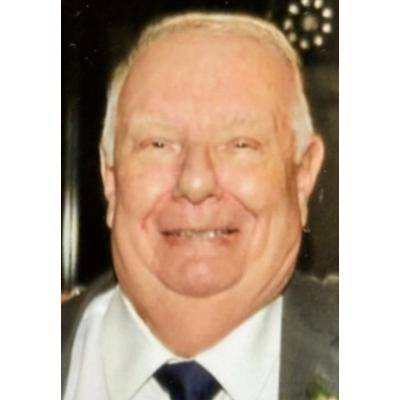 Visitation :
John Quint Treboni Funeral Home
Sunday March 19th 2023 2-4 PM
1177 W. 5th Avenue
Columbus Ohio 43212
Map
---
---
Obituary
Ralph F. Orban, age 81 of Columbus, passed away peacefully at home surrounded by his loving family on January 1, 2023. He is preceded in death by his parents Frank and Irene (Mate) Orban of Cleveland. Ralph is survived by his devoted wife of 56+ years Rosemary (Reed); children Julie Gribben, Pam (Rob) Held, Paul (Kristin) Orban, Mandy (Andy) Nixon, Chrissy (Brandon) Karst, and Peter (Rachel) Orban; grandchildren Kurt & Luke Held, Will & Daniel Orban, Drew Nixon, Mason & Aubrey Karst, and Elise & Oliver Orban; sister Ruth (Alex) Fazekas, and several nieces and nephews. The family would like to thank Suncrest Hospice for their exceptional care during Ralph's final weeks. The family will receive visitors on Sunday, March 19, 2023 from 2-4 pm at John Quint Treboni Funeral Home, 1177 W. 5th Ave, Columbus, Ohio 43212. A private interment with family was held at St. Joseph Catholic Cemetery, 6440 S. High Street, Lockbourne, Ohio 43137. In lieu of flowers, donations in Ralph's memory may be made to St. Jude Children's Research Hospital. Condolences may be sent via www.johnquint.com
---
Contributions
Contributions may be directed to any of the following
---
Condolences for Ralph Orban
---
From : Mary Lou Klein
To : Rosemary Orban
Date: January 6th 2023
I was so sorry to hear about Ralph and the additional worries about Peter. My prayers are with you and your family.
---
From : Lauren Williams and Jeff Miller
To : The Orban family
Date: January 24th 2023
Deepest Sympathy for your loss. May the memories of your time spent together bring you comfort during this very difficult time. Please also know we continue to pray for a complete & successful recovery for Peter, & for strength for him and his family
---
From : Suzanne Schoen and Michael Newman
To : Orban Family
Date: March 19th 2023
We were so sorry to hear of the loss of Ralph. Your whole family has been in our thoughts during this difficult time. We have made a contribution to St. Jude in his name and will continue to keep your family in our hearts.
---
From : Tammy Biandudi
To : Orban Family
Date: March 19th 2023
I have been keeping you in my heart and prayers as Sandy continued to update me on all that has been happening to your family. Your sweet husband and father and grandfather was a special man with such a wonderful sense of humor, a warm smile, and a positive attitude. I admired him as I first became acquainted with your family when Julie was in my fourth grade classroom. As the years passed, all of his children were in my class or Sandy's class and the relationship became a kind of friendship. We were together at celebrations that Sandy hosted and I remember how impressed I was with his intellect, his love for his family, his goodness, and his sense of humor, all of which seemed to be part of his smile that could even be detected in the warmth in his eyes.
I am deeply sorry for your loss. Words just are not adequate in situations like this to totally convey the depth of what one wants to express. Please know that I am sad for all of you and that I wish I could be there today to tell you in person. Sending love and hugs.
---