Nettie Burcsu
January 15 1917 - March 31 2023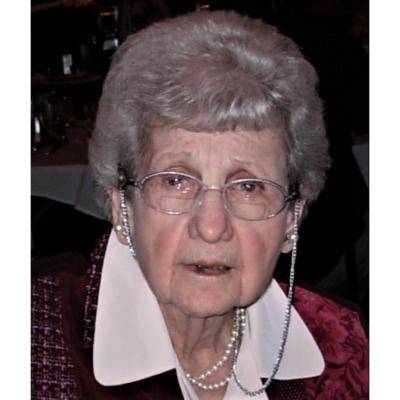 Visitation :
St. Matthias Catholic Church
Wednesday April 5th 2023 10:30-11am
1582 Ferris Road (at Karl)
Columbus Ohio 43224
Map
Services:
Funeral Mass
Wednesday April 5th 2023 at 11:00 am
St. Matthias Catholic Church
1582 Ferris Road
Columbus , Ohio 43224
Map
---
---
Obituary
Nettie Burcsu passed away March 31 at the age of 106. The proud daughter of Italian immigrants, she was born on January 15, 1917 to the late Francesco and Vergilia Bucchicchio. She is preceded in death by her parents; her beloved husband, Tony; her son-in-law, Ron Miller; and sisters, Katherine Bucchicchio, Theresa Vitale, Mary Patete, Katie Staley and Violet Carollo. She is survived by son, Michael, daughter, Kitty, and nieces and nephews. Throughout her amazingly long and full life, she had a "front row" seat to the major events and changes of the past 100+ years. She survived two pandemics, lived through two World Wars, saw the dawning of passenger air travel, television, the space age, rock and roll, computers, and cell phones. She mourned the assassination of President Kennedy and the events of September 11. Nettie retired from The Ohio State University Fawcett Center in 1985 where she had worked as a keypunch operator. First and foremost, she was a wife, mother, and homemaker. She was an excellent cook. She especially loved recreating the special dishes of her Italian heritage and those of Tony's Hungarian heritage. She loved the holidays, particularly Christmas when she and Tony would host the entire family on Christmas night with supper and rowdy games of euchre, poker, and darts. Her Christmas cookies were legendary, often making over 15 different kinds. She was always involved in her children's lives, encouraging them to work hard and excel and supporting them in every way she could. She learned to drive at the age of 40 to drive her kids to their many activities. After retiring, she and her sister, Katie, enjoyed traveling. Nettie experienced her first plane flight at the age of 70 when she flew to Hawaii with her sister, daughter, and son-in-law. Trips to New Orleans, New York City, Washington DC, Chicago and Las Vegas followed. Even in her later years she enjoyed shopping, trips to the casinos, and dining at restaurants. Nettie was a devout Catholic. She maintained meatless Fridays throughout her life, listened to daily Mass on the radio, and said the rosary every day. She was a member of St. Matthias Church for 52 years where she attended Mass regularly. More importantly, her deep faith and Christian values were reflected in how she lived her life. In accordance with Nettie's wishes, there will be no visitation. Family and friends are invited to St. Matthias Church, 1582 Ferris Rd., Columbus, 43224 at 10:30 am on Wed, April 5. A Funeral Mass will be held at 11am, burial following at St. Joseph Cemetery, 6445 S. High St., Lockbourne. The family wishes to thank Wesley Glen Health Center and Wesley Hospice for their loving care of Nettie in her final days. In lieu of flowers, please consider a contribution to a charity listed on johnquint.com.
---
Contributions
Contributions may be directed to any of the following
---
Condolences for Nettie Burcsu
---
From : William Hall
To : Kitty Burcsu
Date: April 5th 2023
Kitty -- I'm so sorry to hear of your mom's passing. What an amazing life she had -- all the things she witnessed and experienced! Inspiration for all of us. Please reach out if you need anything. Bill
---
From : Joyce Hite
To : Burcsu family
Date: April 5th 2023
When I was secretary at St. Matthias, Nettie was the first person to call. She and a group of ladies always helped with mailings. She was always a delight, willing to help in any way. I will always cherish my friendship with Nettie.
Joyce Hite
---
From : Kathie Puskac Chrisman
To : Kitty and Mike
Date: April 5th 2023
Please accept our deepest sympathy on the loss of your dear mother. She and my mother Jo were good friends from St. Augustine and the Fawcett Center. I'd like to think Mom welcomed Nettie to her heavenly home last Friday. May happy memories sustain you.
---
From : Saint Joseph Academy Alumnae
To : Burcsu Family
Date: April 11th 2023
The Notre Dame de Namur Alumnae Association of St. Joseph Academy sends sincerest sympathy to the family of Nettie Burcsu, especially to her daughter and fellow alumna Kitty. Our thoughts and prayers are with you. Eternal rest grant unto her, O Lord.
---