Jean Rizek
April 23 1930 - February 8 2023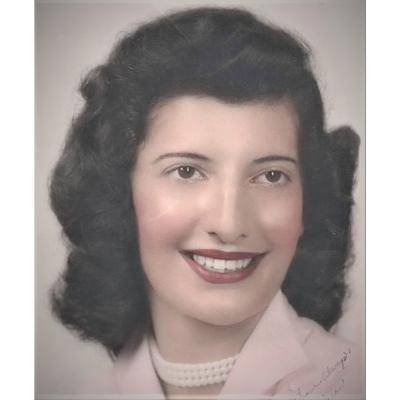 Visitation :
St. Paul the Apostle Catholic Church
Tuesday February 14th 2023 9:30-10:30 am
313 North State Street
Westerville Ohio 43082
Map
Services:
Mass of Christian Burial
Tuesday February 14th 2023 at 10:30 am
St. Paul the Apostle Catholic Church
313 North State St.
Westerville , Ohio 43082-8825
Map
---
---
Obituary
Mary Jean "Jean" Fala Rizek, age 92, died Febraury 8, 2023. She was born in Columbus, Ohio to the late Alfonso and Pia Fala. In addition to her parents, Jean is preceded in death by her husband; Namie Rizek, sisters; Lillian and Sister Julia Fala, OSF, brothers; Carlo and Allan Fala, brothers-in-law; Charles White, Mitchell Rizek, David Merz, Louis Fancelli, Jack Sauer and Donald Bowman, sisters-in-law; Judy Rizek and Genevieve Bowman. Jean was the loving mother of sons; John (Susan), Thomas (Kathy), Ronald (Sandra), and Donald (Roberta). Jean was the proud grandmother of twelve, and great-grandmother of twenty. Jean is also survived by sisters; Clara and Shirley Fala, and Joan White, sisters-in-law; Rose Fancelli and Victoria Merz. She was devoted to her Catholic Faith and had a special love for the Blessed Virgin Mary. Many thanks to Catherine Knight and niece Marlene Riley, for being loving and attentive caregivers. The family will receive friends from 9:30-10:30 am at the St. Paul the Apostle Catholic Church, 313 N. State Street, Westerville, Ohio 43082. A Funeral Mass of Christian burial will follow at 10:30 am. In lieu of flowers, please consider a donation to the Sisters of St. Francis of Penance and Christian Charity, Holy Province, 4421 Lower River Road, Stella Niagra, New York 14114. Condolences may be sent via www.johnquint.com
---
Contributions
Contributions may be directed to any of the following
---
Condolences for Jean Rizek
---
From : Diane and Lou Cenname
To : The Rizek Family
Date: February 10th 2023
She was such a gentle, kind lady...and what a rich legacy she and Namie left behind!
---
From : The Abruzzi CLub
To : Jean Rizek
Date: February 11th 2023
We will miss Jean at our many events. Everyone loved seeing the "Fala Girls"
---
From : Bill Tall
To : John and family
Date: February 11th 2023
I so sorry to hear of the passing of your mother she was such a kind and loving woman. Losing your mother is such a terrible thing to happen to children.May the Lord supply comfort to you all in this time of sorrow.
---