Mary Baxter
October 7 1930 - September 7 2023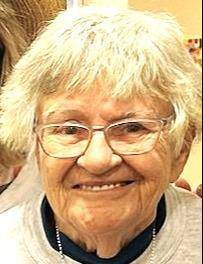 Visitation :
John Quint Treboni Funeral Home
Friday September 15th 2023 4-7 pm
1177 W. 5th Avenue
Columbus Ohio 43212
Map
Services:
Celebration of Life
Saturday September 16th 2023 at 10:00 am
John Quint Treboni Funeral Home
1177 W. 5th Avenue
Columbus , Ohio 43212
Map
Procession to follow to St. Joseph Cemetery
---
---
Obituary
Mary Susannah Phelps Baxter, Columbus, Ohio, passed from this realm at 12:30 p.m. on September 7, 2023. Sue was born October 7, 1930, in Clarksburg, West Virginia. Spending her early years in Parkersburg, she was blessed to grow up surrounded by loving aunts, uncles, cousins, and her beloved Grandfather "Papa" John Kaltenecker. In the aftermath of the Great Depression when jobs and businesses were lost, she was a ray of light for Papa who would hold her on his knee and sing songs to her while sitting on the roof of the Kaltenecker building in downtown Parkersburg. After graduating from Holy Rosary High School in Columbus, Ohio, Sue attended The Ohio State University. While at Ohio State, she played the piano and sang in the Newman Center choir where she met her future husband, Ken, whom she married in June 1951. She was a stay-at-home Mom, which was common at the time, and was an active participant in her children's lives. For many years, she was a Girl Scout leader who always came up with creative and fun activities that often involved music. Sue loved nature and the outdoors and tried to instill that in her GS troop, as well as in her daughters. At one point, she and Ken regularly participated in square dancing. She looked vibrant in her frilly, colorful skirts dos-si-doeing across the room. Grandchildren, great-grandchildren, and nieces and nephews fondly remember the holidays at her house, especially the annual Easter egg hunts. Over the years she and Ken had properties where she nurtured and deepened her love of the outdoors and rustic living at "Southfork," and, most notably, at the "Outpost" in Wayne National Forest. She returned to OSU and received her bachelor's degree in elementary education in 1969. She went on to teach first and second grades at Highland Elementary School. After retiring, Sue and Ken spent winters at their mobile home in Bradenton, Florida. Sue had the ability to make everyone feel welcome and loved, and much of that was expressed in her beautiful smile that lit up a room. She was gracious, had a dry sense of humor, quick witted, and her laugh could be contagious. She loved to learn- through books, reading, travel- and despite a stubbornness for change about some things, Sue was open to evolving and embraced new ideas. More than anything, however, Sue felt happiest and most complete when surrounded by family. Sue is survived by her three daughters, Christine (John) McKenzie, Jenifer (Joe) Montenaro, and Barb (Bob) Stoll; nine grandchildren, Aaron (Mai) Ansel, Ben (Diana Zarins) Ansel, and Emilie Ansel, Joe (Meghann) Montenaro, Andy (Mandy) Montenaro, and Meghann Sobol, Molly Stoll, Matt Stoll, and Mark Stoll, and numerous great-grandchildren. She is also survived by her sisters, Becky Kimberly (Bob Stabile), and Sara Phelps; several nephews and nieces, and long-time dear friends, Wilma Greenwood and Peg Sauer. In addition to her parents, she was preceded in death by her husband, L. Kenneth Baxter. We wish to extend our gratitude to the many people who have helped and cared for Sue over the past few years. A visitation will be held on Friday, Sept 15, 2023 from 4-7 pm and a service on Saturday, Sept 16th at 10 am at the John Quint Treboni Funeral Home, 1177 W. 5th Avenue, Columbus, Ohio 43212. Burial will follow at St. Joseph Cemetery, 6640 S. High Street, Lockbourne, Ohio 43137 In lieu of flowers, donations may be made to the Alzheimer's Association or the Sierra Club.
---
Contributions
Contributions may be directed to any of the following
---
Condolences for Mary Baxter
---
From : Robert and Susan Weber
To : The Baxter Family
Date: September 11th 2023
Our prayers are with the family, Sue was a great Cousin and dear friend.
Bob and Susan Weber
---
From : April Wilburn
To : Barb and Family
Date: September 13th 2023
I will always have fond memories of Mrs. Baxter coming in to help Barb clean the art room at the end of each school year. She was always so sweet and glad to see me or others who knew her here at Ready. My condolences to the entire family.
---
From : Mary Kathryn Rinehart
To : The Baxter Family
Date: September 15th 2023
My love and condolences to all. We have lost such a loving and caring part of our family.
---
From : The Dillenberger family
To : Barb Stoll and family
Date: September 15th 2023
I am glad to say I met your lovely mother at your retirement party, but I knew of her sooner. She seems like an incredible role model for anyone to have. As such, I pray for peace and restful condolences regarding Sue's passing. I will pray for the repose of her soul, as will my family. We pray and look forward to a joyful reunion, as our faith promises. Prayers for the whole of your extended family as well. You are in my thoughts. ---Susanna and the Dillenberger family.
---
From : Jody Adkins
To : Baxter family
Date: September 21st 2023
Mrs Baxter was my 2nd teacher at Highland way back in the early 1980s. She was a wonderful teacher. I have very positive memories of her. Rest in peace !
---