Lois Flynn
June 14 1926 - September 16 2022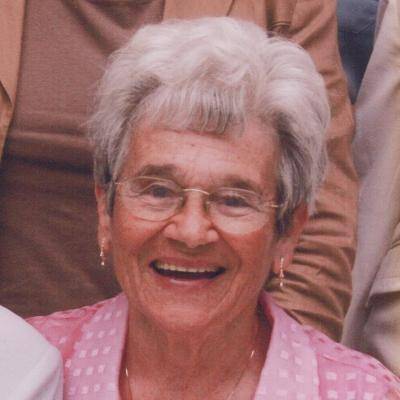 FAMILY AND FRIENDS ARE ASKED TO GATHER AT THE CHURCH FOR HER FUNERAL MASS
Visitation :
John Quint Treboni Funeral Home
Friday September 30th 2022 4-7 PM
1177 W. 5th Avenue
Columbus Ohio 43212
Map
Services:
Mass of Celebration
Saturday October 1st 2022 at 10:00 am
Church of the Resurrection
6300 E. Dublin-Granville Road
New Albany , Ohio 43054
Map
PLEASE MEET AT THE CHURCH FOR MASS
---
---
Obituary
Lois Ann Flynn, age 96, died on September 16, 2022 in Sebring, FL where she has resided since 1991. Former member of St. Peter Parish in Columbus and a retired bus driver (20 years) with Worthington City Schools. Preceded in death by parents, Arnold and Millie Lauer; husband, Joseph, a retired lieutenant with the Columbus Division of Fire; husband Jack McClary; sisters, Ruth Giesige and Martha Ellerbrock; brothers, Bill, Jim, and Dick; daughters-in-law Patty, Ellen and Diana. Survived by children, Patrick; Kathy (Roy) Wahlenmaier; Jim; Becky (John) Longest; Dan (Louise); Dennis (Betsy); twenty grandchildren; 32 great-grandchildren; sisters, Irene Flynn, Alice Siefker, and Nancy Warnimont; numerous nephews and nieces. Our mother lived a full, independent and active life. She loved her life at Buttonwood Bay where friends would see her bicycling to the shuffleboard, pickle ball and bocce ball courts; or to the pool for water aerobics; or the Community Center to play cards. She enjoyed shared dinners with friends at the Rec Hall and her weekly time with friends on the golf course. She inspired many with her zest for living. At 80 she went parasailing, at 90 she went zip lining, and just 2 months ago she went skydiving. She was simply a kind, giving and generous person. We will miss her, but heaven is in for a treat. Friends may call at the John Quint Treboni Funeral Home, 1177 W. 5th Ave, Columbus, Ohio 43212, on Friday, Sept 30, 2022 from 4-7 pm. A Mass of Christian Burial will be at Church of the Resurrection, 6300 E. Dublin-Granville Rd., New Albany, Ohio 43054 on Oct 1, 2022 at 10 am. A private family burial at St. Joseph Cemetery. Visit www.johnquint.com for complete obit and to leave a condolence. In lieu of flowers, donations can be made to Children International, https://www.children.org/make-a-difference/donate
---
Contributions
Contributions may be directed to any of the following
---
Condolences for Lois Flynn
---
From : Jeannie Mathews
To : Family of Aunt Loie
Date: September 21st 2022
Aunt Loie's spark will live on forever. Her positive outlook and constant smile, her energy, her adventurous spirit, fearlessness, generosity and above all, her love for her family, will have ripple effects through many lives for a long time to come. I'm sad that she is gone from here, but feel blessed for the time I was able to share with her. Love and prayers for all who will miss her. One day we will be reunited.
---
From : Sal Pontillo
To : Pat Flynn
Date: September 21st 2022
Our condolences on the passing of your Mother. My God welcome her into heaven.
---
From : Linda Syska
To : Family of Aunt Loie
Date: September 22nd 2022
Always full of positivity and energy and so independent at her age, Aunt Loie was certainly an inspiration to me and my husband. We enjoyed bragging about the things she would do. I am blessed for all of the time I shared with my loving, caring and kind spirited aunt and I will miss her dearly. I am thankful for all of the fond memories of the time spent with Loie and her family (my dear cousins) too. Love and prayers go out to Loie's family.
---
From : John and Gale Soares
To : Lois Flynn Family
Date: September 22nd 2022
We would like to offer our condolences to your family. We knew Lois from Buttonwood Bay for the last few years. John played pickle ball with her. She loved playing with him because she told him she would get the balls near her and he could get all the rest. I played shuffleboard with Lois and always told Lois I wanted to be like her when I grew up! She was an inspiration to those younger than her showing us just what you can do as you age. We will miss her, her smile and watching her ride her little blue bike all around the park.
---
From : Diane Strang
To : The Loie Flynn Family
Date: September 22nd 2022
Loie was one in a million. She lived life to the fullest and was an inspiration and a joy to have around. I laugh as I remember how she outplayed just about anyone in a game, and I smile at her competitive but gentle nature. As I played against her in beanbag one time, she got discouraged with me when every time she would sink a beanbag I would sink one right behind her, thus stealing her points. She looked at me and said, "Diane, you are a pain." She then came up to me later and said, "You're not really a pain. I just don't like to lose." I laughed and told her how much I love and appreciate her. She will be missed. One thing I can say is, "I hope I get Aunt Loie's genes." My love and prayers go out to all of her cherished family whome she loved and who loved her so much. I love you all, my double cousins.
---
From : Steve and Linda Flynn and family
To : Lois Flynn family
Date: September 22nd 2022
How do you sum up a grand life. Lois lived it with a zest and energy I can only hope to even near. Her love of sports family and competition just don't have a compare. And all in such a little package. Younger days I remember many a visit to see her and Joe and my cousins. Was always a fun time. May you all rejoice in a long life , well lived even if that length makes the loss even harder. May God keep and bless you all, dear cousins. Just know that somehow heaven is gaining a new activities director!!! Thank you for being my Aunt, and my great cousins. I love you and will miss you. Steve
---
From : Thomas Flynn Youngest son of Bill and Leona
To : My Cousins Pat Kathy Jim Becky Dan and Dennis
Date: September 22nd 2022
It's with great sorrow that I learned of the passing of your Mom. She was always a joy and a sweet spirit. Surely she will be welcomed home as she enters heaven and into the glorious embrace of Our Lord Jesus.
All my Love,
Tom
---
From : Sandy Kale
To : Pat Flynn and all of Lois s children
Date: September 23rd 2022
Lois will be missed by all of her friends here at Buttonwood Bay especially her friends at Ladies bridge. She always brought us cookies. She was a wonderful friend and I was blessed to know her.
---
From : Bobbi Holstein
To : Lois Flynn family
Date: September 23rd 2022
Lois was a fan of Buckeye coach Woody Hayes. She had an autographed picture of Woody that said to Lois a great Buckeye. A friend got it at a garage sale and gave it to Lois
She had it framed. We miss her enthusiasm for life.
---
From : Roger and Linda Russell
To : Family of Lois
Date: September 23rd 2022
We met Lois many years ago when she was still playing tennis. We would see her, often, riding her bicycle around the park. She always had a smile on her face and a zest for life. She will be missed.
---
From : Barbara Hall
To : Lois Flynn family
Date: September 24th 2022
I remember Lois vividly. Even though that was 50 years ago she was my elementary bus driver and good friends of my parents Milton and Ruth Hall. Lois would always look after us 5 kids and make sure we got on the bus and to school. I see that her smile never changed. Heaven just received an amazing woman. Loved reading about her active happy life while here on earth. My condolences to everyone.
---
From : Dianne Currell
To : The family of Lois
Date: September 24th 2022
She will be dearly missed by her Buttonwood Bay bridge family. She was kind and loving, and an inspiration to all of us, as she passed us on her bicycle, as we were riding in our carts!
---
From : Janet Moore
To : Family of Lois
Date: September 24th 2022
I knew Lois from Buttonwood Bay. What a truly inspirational person she was! She gave so much to every group she was a part of. I loved listening to her stories of her family on Tuesday mornings after our Rosary time. It just won't be the same without her.
---
From : Deborah Szalai
To : The family of Lois
Date: September 25th 2022
A few times this past Spring Lois and I were golf partners. I witnessed her competitive spirit, laughed at her jokes and was amazed at her spunk and enthusiasm. Lois was truly a delight to be with and an extraordinary role model.
Loved her trusting Faith as she would ask for prayers for her loved ones at our Rosary meetings. Blessed to have known her.
---
From : Erin Jacobson
To : Entire family
Date: September 29th 2022
Ben and I are sorry for your loss. We will keep you in our prayers and thoughts.
---
From : Susan and Jerry Trimbach
To : Aunt Lois Family
Date: September 29th 2022
Our deepest condolences. What a bright, shining light Aunt Lois was, she will be greatly missed. May God be with you and comfort you all. Much love!
---
From : Richard and Beth Wahlenmaier
To : Lois Flynn
Date: September 30th 2022
Our deepest condolences to the family.
---
From : Catherine Coats
To : Loie Flynn Family
Date: September 30th 2022
Thinking of all of you, with love and respect, especially tonight and tomorrow as you gather and remember and then lay her to rest at at St Joseph's. She was one in a million.
---