Lincoln Castricone
April 15 1941 - July 19 2023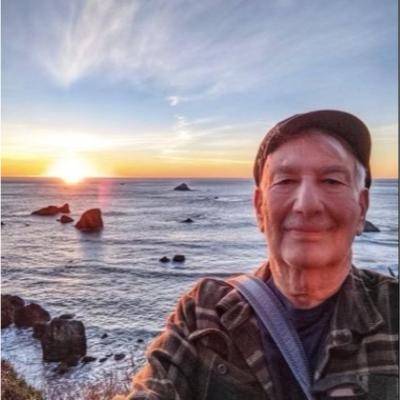 Services:
Celebration of Life
Saturday October 14th 2023 at 12:00 pm
Mozart's Bakery and Event Space
4784 N. High Street
Columbus , Ohio 43214
Map
Celebration of Life from 12 noon to 3 pm
---
---
Obituary
My papa was a rolling stone….

Lincoln Castricone passed away Wednesday July 19th, 2023 in Columbus, Ohio after a period of illness. He died peacefully surrounded by loved ones. Lincoln was born in 1941 in Los Angeles, California and grew up in Chicago, Illinois and Columbus, Ohio. His parents, Alfonso Castricone and Martha Wheeler, were both Columbus natives, a city in which his family has deep roots in community service and social justice activism. He took great pride in his family's role in the Godman Guild, a non-profit that has served Columbus families since 1898. Lincoln was a man of many talents and interests. He loved jazz, classical music, the great books, photography, and art. He spent much of the later part of his life dedicated to his passion for photography and created a large collection of work taken during his travels throughout the United States. He was deeply involved in his 12-step community and celebrated 42 years of sobriety before his death. He worked as a psychologist for years, serving marginalized communities in the prison system as well as in private practice. Lincoln will be greatly missed by his family and community. Lincoln is now joining his son, Alex, who passed away in 2006. He is survived by his children Amy, Sofia, Celeste, and Mark, as well as his sister Mara. He is remembered by his grandchildren Madeleine, Dylan, Elan, Alena, & Max. Lincoln is loved by the hundreds of people whose lives he has touched over the years and was a dear friend to many. He maintained his penchant for humor and sarcasm until his last moments. Lincoln, we love you and we miss you dearly. We also know you will continue to be with. In lieu of flowers, please consider a donation to the Godman Guild, the link to their website is below.
---
Contributions
Contributions may be directed to any of the following
---
Condolences for Lincoln Castricone
---
From : Carolyn Martinez
To : Family of Lincoln Castricone
Date: July 20th 2023
He lived his life as he desired, and we will all miss his beautiful photographs taken all over our country! A true artist! Peace to all!
---
From : Kaaren Cushman
To : Lincoln Castricone
Date: July 21st 2023
Lincoln was a good man, with a kind heart and an eye for taking great photos that are works of art. I will miss his gentle voice and unique talent.
---
From : Michael James Woolsey
To : Linc family and friends
Date: July 22nd 2023
No one in my life, other than my wife and family, has had a bigger impact on me than Linc. We first met as roommates at St. Johns' College, Annapolis, MD in 1961. I was 18, he 20. His was an artistic, passionate, and uncompromising soul. He followed his heart, wherever it led him. He could at times be exasperating, but never dull. He enriched my life and that of many others. Life won't be the same without him.
---
From : Chaplain Darryl
To : Castricone Family
Date: July 28th 2023
On behalf of the entire Ohio Living Home Health and Hospice team, thank you for the blessing of serving your family during this time. Our thoughts and prayers are with you.
---
From : Moe
To : Lincoln family
Date: August 6th 2023
Such a sweet spirited man, quick of wit and funny. I enjoyed getting to know him when he lived in athens, and have corresponded via social media since . He will be missed.
---
From : Jeff Barnes
To : Family of Lincoln
Date: August 6th 2023
What a great spirit of a man, truly blessed to have known him. One of his brilliant photos in my hallway, I will think of him daily. Thank you for what you've given me Linc! He will truly be missed, my condolences and love to his family!
---
From : Larry Meagher
To : Lincoln
Date: August 6th 2023
I only new him during his stay in Jerome, az. We had studio's in the old high school. And were apart of the same 12 step felloship. We stayed in contact after he left Jerome thru Facebook and Instagram. His photography was immaculate. Sorry to hear of his passing . He will be missed. Larry Meagher
---
From : Heather Bates
To : Sofia Amy Celeste and Alex
Date: August 6th 2023
I remember so many things about Lincoln but especially that he had a dry sense of humor like me, and lived life by his own rules and made bold decisions—- that many questioned sometimes — but in hindsight they all made sense. I always appreciated his zest for envelope pushing and making us all think about things differently. An incredible human and life lived because look at the evidence he leaves behind. My love to each of you, xo
---
From : Felicia Castricone
To : Family of Lincoln
Date: August 6th 2023
I am so sad to hear this. Lincoln is my cousin. My father, Christopher Castricone, thought very highly of Lincoln and the work that he did. I did not know that he worked with the Godman Guild, but I remember my father talking fondly about how the Guild helped his family when they were young. Although I haven't seen my Columbus relatives for years, you all are always in my thoughts and prayers.
---
From : Lyn gray
To : The Castricone Family
Date: August 6th 2023
I only knew Lincoln through Facebook, but we struck up some good conversations. I will miss "talking" with him and seeing his amazing photos. What a talent! I wish I had had the opportunity to meet him in person. He will be missed by so many!
---
From : bill iffert
To : family and friends of Linc
Date: August 7th 2023
I had the pleasure of getting to know Linc walking the hills and shores of the Southern Oregon Coast. The conversations were enlightening and lively ... yet I remember a time when he asked for silence and shortly afterwords his camera came up and he shot a few frames , smiled and said thanks. Lincoln will be missed.
---
From : Ric Ford
To : Castricone Family
Date: August 7th 2023
I met Lincoln on fb in 2012. His photography was amazing from many perspectives. May The Lord surround, protect and comfort the family with His Saving Grace. Will miss your clicks and subtle humor…
---
From : Vanessa Kaukonen
To : The Family
Date: August 7th 2023
Lincoln's photographs are the covers of Jorma's last three albums. I just loved the way he saw life through the lens but I also really dug him as a person... he had a sharp wit and a big heart. Fair Winds Lincoln❤️
---
From : Molly Giacco
To : Lincoln Castricone
Date: August 8th 2023
I cherish the many memories with Linc, decades ago in Cincinnati, and visits to many places, after he moved away. Linc was a true intellectual, a compassionate psychologist, and faithful friend. He was so proud of the adults his children had become. Linc was happiest in the great outdoors, where he captured majestic vistas . A beautiful legacy for all of us who were loved by this gentle soul. Peace to you.
---
From : Patrick Tiki Lemley
To : Castricone Family
Date: August 8th 2023
I was a patient of Lincoln's. He helped me through one of the darkest periods of my life and led me to the the 12-step program I still follow 4 years later. I credit him with my sanity and my sobriety. He was a truly gifted man. I shall miss and cherish his sense of humor and his wisdom.
---
From : Constance
To : Lincoln
Date: August 9th 2023
Dear Lincoln, we became more-than-friends sometime in July, 1963. Sixty years later -- too soon -- you're gone.
How lucky those who knew you. How broad your smile, how swift your wit, how tender your touch.
Remember you? Eternally - until I sit by the River Lethe and lose all that went before.
Fare well, mon âme. Je t'embrasse.
---
From : Robert Roe
To : Lincoln Castricone
Date: August 14th 2023
I met Lincoln as a low point in my life. He was in one of his many retirement phases and must have had a lot of free time because he latched on to me quickly. I believe he hung around for the entertainment that was my life and tried to pass along a little wisdom. At the time, I didn't realize how lucky I was to have him around and the wonderful friendship he offered. I am lucky to have known him as long as I did. He was sarcastic, dry, witty, hilarious and most of all, caring. I will miss him dearly – except the jazz. I could never get into the jazz….
---
From : Charlie Neil
To : All the friends of Lincoln
Date: August 29th 2023
Thank you, Lincoln.
---