Joyce Nobile
January 19 1943 - September 16 2023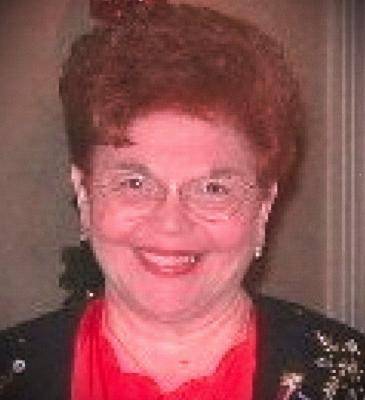 Visitation :
John Quint Treboni Funeral Home
Friday September 22nd 2023 4-7 PM
1177 W. 5th Avenue
Columbus Ohio 43212
Map
Services:
Funeral Mass
Saturday September 23rd 2023 at 10:00 am
St Timothy Catholic Church
1088 Thomas Ln
Columbus , Ohio 43220
Map
Family and Friends are asked to meet at the Church for her Funeral Mass
---
---
---
Obituary
Joyce Nobile, born January 19, 1943, passed away at her home on September 16, 2023, under the care of OhioHealth Hospice. She was preceded in death by her parents Dominic and Mary Iacoboni, and her brother Christopher. She is survived by her husband of 61 years Louis A. Nobile, sons Mark and Martin Nobile (daughter-in-law Linda Byron), her granddaughters Lauren and Amanda Nobile (her pride and joy; her "Angel Faces"), niece Carrie Iacoboni (Seabolt), and nephews Christopher and Jason Iacoboni, brother and sister-in-law Paul and Mary Nobile, and their children David Nobile, James Nobile, Sharon Nobile (D'Alberto) and Julie Nobile (Drnek). Joyce attended St. Ladislas grade school and St. Joseph Academy, both in Columbus. She was a highly active member of St. Timothy Church for over 55 years. She was a teacher's aide, cafeteria worker and chaperone during her sons' school years, as well as a Eucharistic Minister, usher, lector, and scripture reader. She was also a member of the Funeral Choir, Women's Club, and Bereavement Committee. She was a member of Iota Tau sorority, and a 48-year member of Brookside Golf and Country Club. Her travels took her to New York, Bonita Springs, New Orleans, Las Vegas, Los Angeles, Miami, and many places of interest in Ohio and the Midwest. An avid Ohio State Buckeye fan, she attended many football and basketball games appropriately attired in Scarlet and Gray. Joyce spent her life as a loving wife, mother, grandmother, and friend to those who knew her best. Family and friends meant everything to her. She took considerable pride in attending every school activity, extracurricular event, and sports activity for her loving sons and granddaughters. Joyce's family will greet her friends and relatives on Friday September 22, 2023, from 4-7 pm at the John Quint Treboni Funeral Home, 1177 W. 5th Avenue, Columbus, Ohio, 43212. A Mass of Christian Burial will be celebrated at St. Timothy Church, 1088 Thomas Lane, Columbus, Ohio 43220, at 10 am on Saturday, September 23, 2023. A private interment at St. Joseph Cemetery is planned.
---
Condolences for Joyce Nobile
---
From : Alumnae of Saint Joseph Academy
To : Nobile Family
Date: September 18th 2023
The Notre Dame de Namur Alumnae Association of St. Joseph Academy sends sincerest sympathy to the family of our alumna, Joyce Iacoboni Nobile. Our thoughts and prayers are with you. Our ranks are greatly diminished by her passing.
Eternal rest grant unto her, O Lord. May she sleep in heavenly peace.
---
From : John and Suzan Orban
To : Lou Nobile
Date: September 19th 2023
I've known Joyce my entire life and she was one of the finest and kindest individuals anyone could ask to know. Grew up across the street from her and her mother & father & brother were Great neighbors and close friends. Great people. We had many, many good times and lots of fun and laughs together. She will be missed. She is with her heavenly family now. God Bless You Joyce!
---
From : Ken and Shirley Galloway
To : Lou and Family
Date: September 19th 2023
Our thoughts and prayers are with you, Lou and family, as we reflect on Joyce's wonderful smile and the happiness she shared with everyone she came in contact with. Her engaging conversations always brought energy to any group.
---
From : Liz W
To : Lou and Family
Date: September 19th 2023
Sending sincere condolences to Cousin Lou and All the Family.
Cousin Joyce's ❤️ smile and her laughter was so contagious! I know this will not be forgotten.
Blessings to All the Family with Love and Hugs,
Cousin Liz
---
From : Larry Cassady
To : Lou Nobile
Date: September 21st 2023
To Lou and family, Shirley and I are so sorry to hear of Joyce's passing. She was such a lovely lady and so sweet and funny. Our sympathy to you and the family.
---
From : Jeannie and Don MacNabb
To : Lou and Family
Date: September 21st 2023
So sorry to hear. We enjoyed a lot of fun times with Joyce at Hickory Harbour.
---
From : Nancy Davis
To : Martin
Date: September 21st 2023
So very sorry for your loss.
---
From : Julie Wigtil
To : Mark and Family
Date: September 22nd 2023
You are in my thoughts , and I am praying daily for each of you . So very sorry for your loss .
---
From : Msgr John Cody
To : Lou and family
Date: September 24th 2023
So sorry and grieved to hear of Joyce's passing. You and Joyce had a beautiful marriage and two great sons whom I remember with fondness. Joyce has joined her parents, Dominic and Mary, in the Lord's kingdom. I met her parents through you, and was delighted to become their pastor at St Ladislas, my first pastored. I'll never forget those wonderful times or the wonderful friendships we made over the years. I'll never forget Joyce's vivacious personality, her winning smile, and her welcoming presence. Please know, Lou, that you and the boys and family will be remembered in prayer at mass today and in the future. May Joyce rest in peace, and comfort you as you grieve her passing.
---
From : John and Betty Callender
To : Lou Nobilee
Date: September 25th 2023
Lou, Betty and I were traveling in Utah when John Grant contacted us to advise of Joyce' passing. We are truly sorry for your loss. The Good Lord has reserved a special place in heaven for Joyce. We know your faith will get you through this difficult time. Peace and take care. Of your back,
---