Josephine Volpe
July 18 1929 - February 5 2023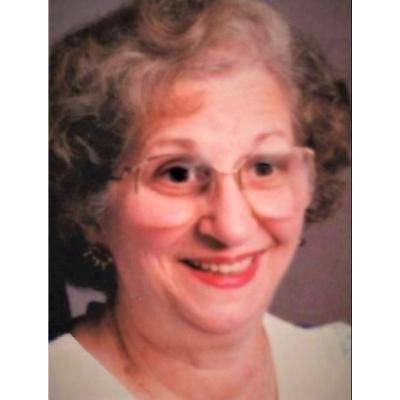 Visitation :
John Quint Treboni Funeral Home
Sunday February 12th 2023 2-5 pm
1177 W. 5th Avenue
Columbus Ohio 43212
Map
Services:
Funeral Mass
Monday February 13th 2023 at 10:00 am
St. John The Baptist Catholic Church
720 Hamlet Street
Columbus , Ohio 43215
Map
Family and Friends are asked to meet at the Church for her Funeral Mass
---
---
---
Obituary
Josephine Volpe, age 93, was peacefully called home by our Lord on Sunday, February 5, 2023, at Mayfair Village Nursing Care Center, Dublin, Ohio. She was a life-long member of St. John the Baptist Italian Catholic Church, choir and Italian Festival Committee co-chair, Blessed Mother Sodality, Amici D'Oro, St. Matthias Mello-Naires and SFI Auxiliary. Josephine graduated from Linden McKinley HS, class of 1947. "Jo", as she liked to be called, is preceded in death by her husband Philip of 63 years; parents, Luigi and Incoronata Damato; daughter-in-law Beverly (Philip) Volpe; brothers Nicholas (Helen) Pace, Amaday (Mary) Damato and Joseph (Jean) Damato; sisters, Christina (Martin) Tempio, Jean (Frank) Circelli, Monica (Carlo) Ventresca, Jeanette (Albert) Squillacioti, Elizabeth Perrone and Mauela Damato. She is survived by children; James (Julie) Volpe and Philip Volpe; grandchildren, Laura Volpe, Lindsey (Johnathan) Clemo, Gina Volpe and Francesca Volpe; and great-grandchildren, Cooper and Tucker Clemo. Jo is also survived by numerous nieces, nephews and dear friends. She enjoyed traveling on bus trips to scenic places as well as cooking delicious Italian meals and spending fun times with friends and family. Jo was kind, loyal, generous and a loving mother. She will be missed by all who know her. Friends may call SUNDAY, February 12, 2023 at the JOHN QUINT TREBONI FUNERAL HOME, 1177 W. 5th Avenue, Columbus, Ohio 43212 from 2-5 pm. A Funeral Mass will be held at 10 am on MONDAY, February 13, 2023, at St. John the Baptist Italian Catholic Church, 720 Hamlet Street, Columbus, Ohio 43215 Rev. Fr. Andrew Kozminiski, SAC, Presider. Interment will follow at the St. Joseph Cemetery, 6440 South High Street, Lockbourne, Ohio 43137. The family would like to express their sincere gratitude to the team at OhioHealth Heart Hospital, Mayfair Village Nursing Care Center and Bella Care Hospice for the care and comfort of Josephine in her final days. In lieu of flowers, friends who wish may contribute to the National Kidney Services or call (614) 351-2900. Condolences may be sent via www.johnquint.com
---
Contributions
Contributions may be directed to any of the following
---
Condolences for Josephine Volpe
---
From : Ann Melaragno
To : Volpe Family
Date: February 7th 2023
So sorry to hear of Aunt Jo's passing. She always had a smile on her face when I saw her and was very kind.
---
From : Dan and Rebecca Terrible
To : Volpe Family
Date: February 8th 2023
We fondly remember Aunt Jo and her upbeat nature. She will be missed.
---
From : Janice Terrible Colston
To : Jim Phil and Volpe Family
Date: February 8th 2023
Aunt Jo was such an amazing lady. She was a wonderful aunt and always uplifting. I will miss her sweet spirit and kindness. My deepest sympathies to the family.
---
From : Marian and Pete Baumann
To : Volpe Family
Date: February 12th 2023
So sorry to hear of the death of your beloved mother and grandmother, Josephine. I knew her well through St John the Baptist Church. Love and prayers to you all. MarianBaumann 💕🙏🏼🙏🏼
---
From : Philip Volpe
To : Eulogy For Josephine Volpe
Date: February 13th 2023
Thank you all for coming to here today to celebrate the memory of my mother, Josephine Volpe. Let us together share our joy in the gift of her life and the happiness she gave back to each of us.
To be sure, Mom insisted that no one left our house with hungry. When friends and relatives visited, she always packed left-overs to have the next day. This was just one of the many ways she shared her love. Even now she is sharing her love of the Lord through this Mass so that we may find a special message to share for another day.
Most of you know that Mom was a very thrifty shopper. She found many creative ways to make ends meet, especially when money was tight like when Dad's company would go on strike every couple of years. Mom and Dad bought cases and cases of all kinds of food and supplies when they were on sale. Things like toilet paper, soap, canned vegetables and my ever-favorite, powdered Milk - She always kept a box of it on hand just in case she couldn't get to the store.
Mom had a very trusting soul. Like when Dad was installing an electrical circuit for the dryer. He told her to just make sure the wires don't touch anything. Then he waited until he was finished he tell her it was live with 220 volts!!!
Heights is definitely one of the things that Mom feared the most. Just like when Dad drove us to Mackinac Island. But Dad left out one very important detail. To get there you have to go across the Mackinac Bridge, which happens to be one of the world's longest suspension bridges. It's over 8 miles long and 550 ft tall!!! As she looked down, all she could see were boats like the size of little toys. Mom was soooo scared of any bridge after that!!
But, not all of Mom's terrors were of her own doing. I'm to be blamed for at least ONE of them! Well, one day when I was about 4 yrs old, Mom and I were at the Northland mall. After taking me to the pet shop to see all the cute little animals, we headed down the way into Sears. As she was talking to the clerk I wandered away and made my way back to the pet shop. After only a minute or so, she realized that I was missing. She went crying hysterically through Sears when another lady stopped her and said she saw a little boy walking alone into the pet shop. Mom ran to find me in the pet shop. It wasn't until I was older that I realized just how terrifying that must have been for her.
I guess that taught me I had to do a lot of good things to make up for that and other things. Since then I have tried to show her my love and appreciation. Hopefully, she has forgiven me.
Later after Dad passed away, Mom and I had many, many heartfelt conversations. Then, after I lost Beverly, we had many loving Mother-Son talks about helping each other overcome the loss of our spouses. I guess this is something that no one is really ever prepared to talk about.
I really enjoyed taking Mom to special places like visiting the Conservatory to see the butterflies and beautiful plants and flowers. Or showing her YouTube videos of Introdacqua and other far away places. Mom enjoyed the simple things, especially when they reminded her of the things of her youth.
I am so very proud and honored to have Josephine as my mother. She was my guiding light when I was in dark despair and needed encouragement. Her thoughtfulness and loving care gave me the strength I needed to pick myself up and get going after losing Beverly. I love you Mom. You know that you will always be in my heart. And I will miss your smile, your laugh, your sage advice, and your sincere personality.
To all of you here, thank you again for honoring her. She loved all of you dearly and her memory will live on in all of us. And I hope each of you have found a little piece of her love to take home for another day. Amen.
---