Joseph Piccininni
December 25 1928 - July 5 2022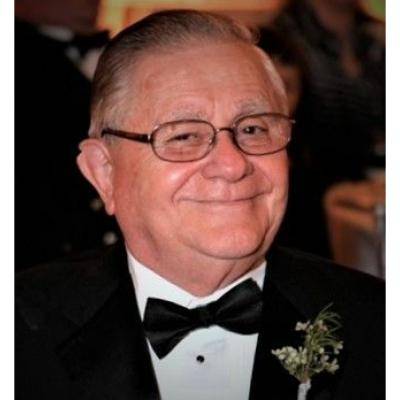 FRIENDS ARE ASKED TO MEET AT CHURCH FOR HIS FUNERAL MASS
Visitation :
John Quint Treboni Funeral Home
Thursday July 7th 2022 4:00-7:00 PM
1177 W. 5th Avenue
Columbus Ohio 43212
Map
Services:
Funeral Mass
Friday July 8th 2022 at 10:30 am
St. John The Baptist Catholic Church
720 Hamlet Street
Columbus , Ohio 43215
Map
---
---
---
Obituary
Joseph Piccininni, born December 25, 1928 in Elmhurst, NY, died July 5, 2022, in Columbus, Ohio. He worked a variety of jobs including butcher and auto wrecker before becoming an Engineer after earning a Bachelor's degree from Pratt Institute in Brooklyn, NY. Joseph married the love of his life Elizabeth DeMauro in 1954. They were married for 62 years until her death in 2016. He honorably served his country in the US Army during the Korean War. A lifelong New Yorker, in 1983, he moved his family from NYC to Columbus with American Electric Power before retiring in 1993, after almost 30 years of devoted service. He had a strong desire to keep working into his late eighties both as a butcher for Giant Eagle and as a stadium usher for Ohio State football games. He is predeceased by his beloved wife Elizabeth, parents; Pasquale and Maria Piccininni, in-laws; John and Josephine DeMauro, brother; Rocco, brother-in-law; Dominick DeMauro and numerous other aunts, uncles, cousins and godchildren. He is survived by his children; Patrick (Anita DiPasquale), John (Lori), Michael (Heidi) and Maria (Paul) Ross, Grandchildren; Joseph, Michael, Anthony, Angelina, Callum, Olivia and Sydney, sisters-in law; Catherine DeMauro and Judy Buccolo, nephews; John and Robert DeMauro, nieces; Maryann Kessler, Theresa Hensley, Patricia Greenwald, Elizabeth Gandolfo, as well other great-nieces, nephews, cousins and godchildren both in the US and Italy. He was passionate about his heritage, his old neighborhood roots, the music of the Rat Pack, and the Ohio State Buckeyes. He was a member of the Abruzzi Club and the Sons of Italy, Amici d'Oro and volunteered for many years at the Columbus Italian Festival. Joseph will be missed by many who loved his zest for life, selfless generosity, and loyal friendship. A visitation will be held on Thursday, July 7, 2022 from 4-7pm at the John Quint Treboni Funeral Home, 1177 W 5th Avenue, Columbus, Ohio 43212. A Funeral Mass will be held at 10:30 am on Friday, July 8, 2022 at St. John The Baptist Church, 720 Hamlet Street, Columbus, Ohio 43215, with a procession following to Resurrection Cemetery in Lewis Center, Ohio. Condolences may be sent via www.johnquint.com
---
Condolences for Joseph Piccininni
---
From : Mike and Kerree Susi
To : Joe Piccininni
Date: July 8th 2022
Thoughts and prayers for everyone RIPJoe! ❤%uFE0F%uD83D%uDE4F
---
From : CYNTHIA WHITE
To : JOE PICCININNI FAMILY
Date: July 9th 2022
I WALKED PEPPY, HIS PUPPY, AND REMEMBER HOW MUCH JOE LOVED HIM. JOE WAS A VIBRANT GUY, AND I REMEMBER HIS BEAUTIFUL WIFE FROM THE CONDO WIVES' LUNCHEONS. MAY THEY BOTH REST IN PEACE, NOW THAT THEY'RE TOGETHER AGAIN!
%uD83D%uDE4F%uD83C%uDFFB%uD83C%uDDFA%uD83C%uDDF8 CYNTHIA WHITE
---
From : Ed Pagnanelli
To : The Piccininni Family
Date: July 10th 2022
Joe will be missed for his presence, service and participation at St. John's as usher and our annual Italian festival. God rest his soul and may he Rest In Peace. %uD83D%uDE4FɱD%uFE0F%uD83D%uDE4F
---