John Chapin
July 28 1928 - March 6 2023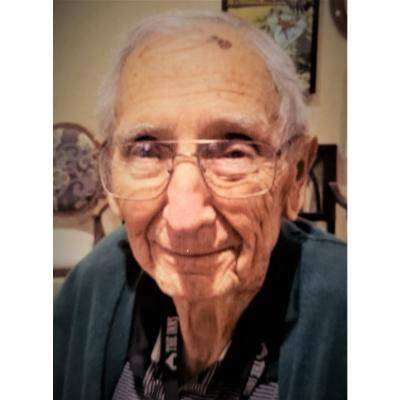 Visitation :
John Quint Treboni Funeral Home
Friday March 10th 2023 3:30-6:30 pm
1177 W. 5th Avenue
Columbus Ohio 43212
Map
Services:
Funeral Mass
Saturday March 11th 2023 at 10:00 am
St. Margaret of Cortona Catholic Church
1600 N. Hague Avenue
Columbus , Ohio 43204
Map
Friends and Family are asked to meet at the Church for the Funeral Mass
---
---
Obituary
John Chapin, age 94, passed away on Monday March 6, 2023. John was a loving husband, father, grandfather, uncle and friend. He retired from the Columbus Fire Division with over 25 years of service. John is preceded in death by his wife of 65 years, Mary; his parents, John and Kathrine; his sisters-in-law and brothers-in-law, Tony and Lola D'Amico, Albert and Dorothy D'Amico, Joe and Ella Flacche, and John and Norma Francescon. John is survived by his children, Kathleen (Bob) Chapin Yankus, Steve (Sherry) Chapin and Karen (Rick) Ohlemacher; his grandchildren Emily (Jaime) Sotelo, Rick (Sarah) Ohlemacher, Greg Ohlemacher, Zach (Jordan) Chapin and Cami (Jeff) Alexander and his nine great-grandchildren. He is also survived by sister-in-law Emma Moro and brother-in-law and sister-in-law Jim (Deana) Flacche. He also leaves behind many nieces, nephews and friends. John was most proud of his family. He was a member of St. Margaret of Cortona Catholic Church for his entire life of 94 years. He took pride in the Young at Heart Club and worked on the Bishop's Annual Appeal for over 30 years. John's family will receive friends on Friday, March 10, 2023 from 3:30-6:30pm at the John Quint Treboni Funeral Home, 1177 W 5th Avenue, Columbus, Ohio 43212. Friends are asked to gather at St. Margaret of Cortona Catholic Church, 1600 N. Hague Avenue, Columbus, Ohio 43204 on Saturday, March 11, 2023 for the 10 am Funeral Mass. Interment will immediately follow at the St. Joseph Cemetery, 6440 S. High Street, Lockbourne, Ohio 43137. Condolences may be sent via www.johnquint.com
---
Condolences for John Chapin
---
From : Steve and Patti Dean
To : Kathy and Bob Yankus
Date: March 9th 2023
Praying for your peace as you put to rest your beloved father.
---
From : Bart and Joyce Wiggins
To : Sue Moose and family
Date: March 9th 2023
To all of John's family,
Our thoughts and prayers are with you all. We've heard so many wonderful things about Uncle John & Aunt Mary from our dear friend Sue. God be with you all as you join together to lay your dear one to rest. Love Bart and Joyce
---
From : Sam Moro
To : Johns Family
Date: March 10th 2023
I grew up with John in San Margherita and spent many happy times at the golf course, McDonald's, Wendy's and our favorite, MCL. I'm sorry I will miss the funeral. John was a very good friend and I will miss him very much.
---
From : Dan and Kathy Damico
To : John Chapin Family
Date: March 12th 2023
John will be missed by all that knew him. Our most sincere condolences. Dan and Kathy
---
From : JANET GAVIN WHITE
To : STEVE CHAPIN
Date: March 15th 2023
Steve ... Thinking of you as I read the DISPATCH & learn of the loss of your dear Dad. The older we get, the harder it gets to lose those we love, & it never goes away. Please know that I am fondly thinking of you, & will pray for your dear Dad & you. You have undoubtedly made him so proud through the years, so you can live with no regrets. I am happy for you that you had him for so long. He raised a good son indeed. If I lived in Columbus, I would have come to pay my respects. Love & Hugs Janet Gavin White - Melbourne, Florida
---