Jennie Yocca
April 19 1922 - December 15 2022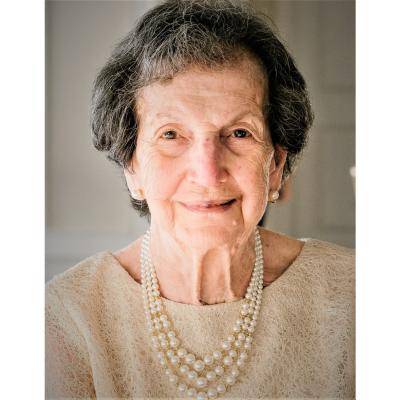 Visitation :
John Quint Treboni Funeral Home
Tuesday December 20th 2022 4-7 pm
1177 W. 5th Avenue
Columbus Ohio 43212
Map
Services:
Funeral Mass
Wednesday December 21st 2022 at 11:00 am
Saint Christopher Parish
1420 Grandview Avenue
Columbus , Ohio 43212
Map
Family and Friends are asked to meet at the Church for her Funeral Mass
---
---
---
Obituary
Jennie L. Yocca passed away peacefully at her home of 48 years surrounded by her loving family on December 15, 2022 at the age of 100. Jennie was born at home on April 19, 1922 to Andrew and Josephine Arrera in Windber, PA. She is predeceased by her husband of 52 years, Eugene; her only brother, Charles Arrera, and five sisters: Angeline Formica, Mary Arrera, Anna Cornacchia, Sarah D'Andrea and Josephine Bertino; son-in-law, Tim Donohue; and brothers and sisters-in law whom she dearly loved. After graduating from Windber High School in 1940, she went on to work at The Windber Lumber Company where she met her husband. They married in 1946 and moved to Columbus, Ohio settling in Grandview Heights. Jennie was a long-time member of St. Christopher Catholic Church, was active in its women's club for many years and served on the executive board of the Home and School Association. Jennie was also one of the original lunch ladies at St. Christopher School. Once her daughters were in school, Jennie returned to the workforce as a saleswoman and bookkeeper for The Union Company where she was known by 'Jeanie' and made many friends. Jennie dedicated her life to her family. She was a wonderful wife, mother, and grandmother who enjoyed cooking and baking and became a prolific craftsperson who created award-winning ceramic figurines. An avid OSU Buckeye fan, she attended football games well into her nineties. She is survived by her three daughters; Susan Donohue, Patti Yocca and her husband John Antenucci, and Mary Cervi and her husband Gregg Cervi. Jennie is also survived by grandchildren; Matthew Dawson, Elizabeth (Thomas) Buoni, Meredith (Michael) Wood, Nicolas Cervi, Joseph Cervi; sister-in-law Josephine Markferding, brother-in-law John Yocca and many loving and attentive nieces and nephews. A visitation will be held on Tuesday, December 20, 2022 from 4-7 pm at the John Quint Treboni Funeral Home, 1177 W 5th Avenue, Columbus, Ohio 43212. A Funeral Mass will be held on Wednesday, December 21, 2022 at 11 am at St Christopher Catholic Church, 1420 Grandview Avenue, Columbus, Ohio 43212 with a procession to Union Cemetery following. The family would like to thank Dr. Mark Ricaurte for his kind and excellent care over the many years; he was Jennie's doctor, the staff at Mt. Carmel Hospice and the Home Instead team for their care and support. In lieu of flowers, the family suggests a donation be made to St. Jude Children's Research Hospital. Condolences may be left via www.johnquint.com
---
Contributions
Contributions may be directed to any of the following
---
Condolences for Jennie Yocca
---
From : Vickie Morris
To : Patty
Date: December 17th 2022
My sympathies to you on your loss; but, my golly, what a Full life she led!Losing a parent is never easy and during holiday time kinda adds an extra 'sting'. I pray our loving Savior will embrace you & soothe your pain, and bring many of those good memories to your mind. God bless.
---
From : Stephenie and Tom
To : Mary and Susan and Patti
Date: December 18th 2022
Your Mom was so gracious and always a joy to see at family events. We will miss her and please know that you three sisters are in our thoughts and prayers.
---
From : Mark Edmund
To : All family of a great lady
Date: December 18th 2022
Hard to say what I think now. Tend to say the generic words to say enough. Jennie was more than that. Superior neighbor. Kind. caring. stayed in touch, always showed concern about me and others and more. Her qualities showing up in her children. Eugene and myself working at GM set off something special. Hardworking. dedicated. Enjoyed every visit with her. Won't just miss her. Will always remember her fondly. Say hello to Theresa
---
From : Sister Marie
To : Mary and Susan and Patti
Date: December 20th 2022
My sympathy to you and all the family as you grieve the loss of your beautiful Mom. I always loved her quiet strength and presence. Know that all of you continue to be held in my heart and in prayer.
---
From : Anna Petrella Crawford
To : Patti and sisters
Date: December 20th 2022
Patti, I am so sorry to hear of your mother's passing. When I saw you, your husband and your mom in AZ in January of 2007, I felt like it was a true gift from God. I had just finished a really tough year and it was such a light in my life to see you and your mom after almost 40 years! She was such a wonderful person and I still have fond memories of her from when we were in school at St. Chris. I have thought of her often when I drive through Grandview and wondered how she was. How wonderful that she was with you for so many years! I know she will be missed by you and all of your family. No matter how long we have our moms, it is never long enough. God bless you all. I will have all of you in my prayers. Fondly, Anna
---
From : Mark Herbert
To : Patti
Date: December 21st 2022
My thoughts and prayers are with you. I couldn't have said it any better than Vicki Morris's message. God Bless you, and take comfort that your Mother is no longer in pain and is with your Dad. She did lead a full and wonderful life!
---
From : Carol Gallo
To : Patty
Date: December 22nd 2022
So sorry to learn of Jennie's passing. I remember her as such a sweet lady with a great smile. Cherish all the wonderful memories. Keeping all of you in my prayers that God will be with you and help sustain you during this sad time.
---