Jeannine Fancelli
May 19 1929 - August 15 2023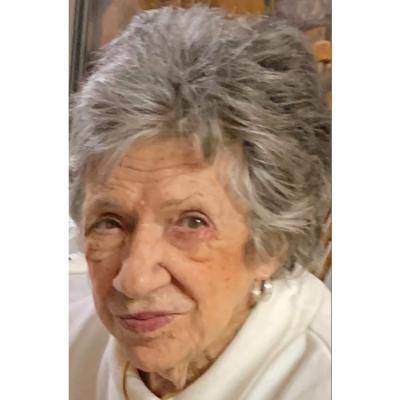 Visitation :
John Quint Treboni Funeral Home
Friday August 18th 2023 4-7pm
1177 W. 5th Avenue
Columbus Ohio 43212
Map
Services:
Funeral Mass
Saturday August 19th 2023 at 10:00 am
St. James the Less Catholic Church
1652 Oakland Park Avenue
Columbus , Ohio 43224
Map
Friends and family are asked to meet at the church.
---
---
---
Obituary
Jeannine Bailey Fancelli, age 94, of Columbus, Ohio passed peacefully surrounded by her loving family August 15, 2023. Born May 19, 1929 in Glouster, Ohio. She is preceded in death by her husband of 68 years Joseph Fancelli; her father Hubert H. Bailey, her mother Ann Bailey; brother, James Bailey; sisters, Ruth Ann Bellows, and Sharon Dilcher; mother-in-law, Philomena Benedetto Fancelli; brothers-in-law, Leonard, Frank, John, and Lou Fancelli; sisters-in-law, Clara and Carol Fancelli; and brother-in-law James Rushia. Jeannine is survived by her daughters, JoEllen Fancelli Vickers, Cathy (Gerry) LeFevre; grandchildren, Shawn (Amber) Vickers, Kevin (Katie) Wanner, Mandy (Tyson) Williams, Chad (Ashley) Wanner, and Brett (Angie) Wanner; great-grandchildren, Payton, Caleb, and Josephine Vickers, Grady and Lindy Wanner, Lucy, Quinn, Ella, and Libby Williams, Lucas and Brady Wanner, Gianna and Mason Wanner; brother-in-law, James Fancelli; sisters-in-law, Dorothy Fancelli, Rose Fancelli, and Pauline Fancelli Rushia; cousin, Michael Mudrie of Glouster; and nieces, Tina Fisher, Lisa Peter, Sherrie Humphrey, Don Bellows and Catherine Bellows Vanhoose, along with many other nieces and nephews. Jeannine was a devoted wife and mother. She provided her family with lasting memories and advice. She will be missed dearly, and her memory will live on for generations. She graduated from Johnstown High School, was a member of the Altar Rosary Society at St. James the Less Catholic Church and a member of GALA, and Amici Dori. She especially loved watching birds, fishing, the zoo, and going to the Ohio State Fair. She would not pass up an opportunity to go to the casino. Her grandchildren always enjoyed receiving a call on their birthday and hearing her sing them Happy Birthday. Her family will receive friends on Friday August 18, 2023 from 4-7 pm at the John Quint Treboni Funeral Home, 1177 W 5th Ave. Columbus Ohio 43212. A Mass of Christian Burial will be celebrated by Father James P. Black on Saturday August 19th, 2023 at 10 am in her longtime parish, St. James the Less Catholic Church, 1652 Oakland Park Ave, Columbus Ohio 43224. Burial to follow at St. Joseph Cemetery. Condolences may be sent via www.johnquint.com.
---
Condolences for Jeannine Fancelli
---
From : Christine Bertolo
To : Cathy LeFevre and Joellen Vickers
Date: August 16th 2023
Cathy & Joellen, my thoughts and prayers are with you both, and your families during this difficult time. Remember all the warm and loving memories of your mom that touched your hearts throughout the years. Here's wishing you peace and comfort in the days to come.
---
From : The GALA Rose Ann Graf
To : The Family of Jeaninne
Date: August 16th 2023
Jeaninne was a long standing member of our club for many years. We all cherish the memories of her indomitable spirit and the good times we enjoyed with her and Joe at so many social events. Our thoughts and prayers are with each of you.
---
From : Kathlyn Thompson
To : JoEllen
Date: August 17th 2023
May God wrap comforting arms around you. So sorry for your loss.
---
From : Rita carbonara
To : Cathy and Gery Le Fevre
Date: August 17th 2023
Cathy, thinking of you at this time for the recent loss of your mother. Tonight you and Jeanine will be in my thoughts and prayers.
---
From : Mary and Bob White
To : JoEllen
Date: August 17th 2023
We're so sorry to hear of your Mom's passing. We always enjoyed our times with her! She certainly lived a long active life. Our prayers are with you and your family at this time and in the difficult days ahead! God speed Mrs. Fancelli
---
From : Dr Ernie Melaragno
To : All the Fancelli Family
Date: August 18th 2023
So sorry for your loss. You have my deepest sympathy!
I have very fond memories of all the good times we all had all of the various club functions.
---