Jane Bevilacqua
September 3 1928 - May 11 2022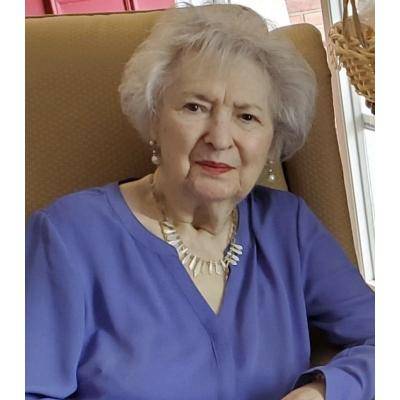 Family and friends are asked to gather at the Church for her funeral Mass.
Visitation :
John Quint Treboni Funeral Home
Thursday May 19th 2022 4:00-7:00 PM
1177 W. 5th Avenue
Columbus Ohio 43212
Map
---
---
---
Obituary
Jane Lucia Bevilacqua
1928 - 2022
Jane Lucia (Del Signore) Bevilacqua, age 93, passed peacefully into eternal life on May 11, 2022. Born September 3, 1928, the daughter of the late Modesto and Rosa (DePietro) Del Signore. Preceded in death by brothers Clivio and Isolando "Izzy" Del Signore; sisters Velma Mangini and Elva Jaconette. She attended the old Milo School and was a graduate of Linden McKinley High School. Jane was employed by the Gas Company, and it was at this time she was reacquainted with her former classmate Leno Bevilacqua, who became the love of her life. While her children attended St. Matthias School, she volunteered as a Librarian and room mother. Her faith and family became her path forward. She was affectionately known as everybody's "All Purpose Aunt Jane". All babies felt the love and comfort of Aunt Jane's embrace. Along with her love of travel, time on the beach, and spending time with friends, we cannot overlook her delight for a day at the casino. She will be sadly missed by husband of 71 years, Leno Bevilacqua, daughter Denita Connor, and son Robert Bevilacqua (Diana). Grandchildren Michael Connor (Katy), Janelle Thomas (Geoffrey) and Valerie Cates (Nathan). Great grandchildren Rory Connor, Oliver, Everett, and Nolan Cates. She was also loved by many nieces, nephews, neighbors, and friends. The family will receive friends from 4pm to 7pm on May 19th at John Quint Treboni Funeral Home, 1177 West 5th Ave. Columbus. Friends and family are asked to meet at St. Matthias Catholic Church on May 20th at 10am for the Mass of Christian Burial with Father Anthony Davis officiating. Burial will be at St. Joseph Cemetery, 6440 S. High Street, Lockbourne, OH. In lieu of flowers, donations may be made in memory of Jane Bevilacqua to Life Care Alliance by phone (614) 278-3130, online at https://www.lifecarealliance.org/donate/, or by mail at 1699 W Mound St, Columbus, OH 43223.

---
Contributions
Contributions may be directed to any of the following
---
Condolences for Jane Bevilacqua
---
From : MARY USI MANCINI
To : LENO & FAMILY
Date: May 12th 2022
CONDOLENCES TO LENO & FAMILY ON THE LOSS OF YOUR LOVELY WIFE & MOTHER-A REAL SWEETHEART!%uD83D%uDC96
---
From : JIM& JUDY ROWLAND
To : LENO, DENITA,BOB & ALL THE FAMILY
Date: May 17th 2022
WE WERE SHOCKED AND SADDENED BY THE NEWS OF JANES SUDDEN PASSING.WE LOVED HER SO MUCH AND ENJOYED SPENDING TIME AND REMINISING WITH HER ABOUT LIFE. SHE WAS SO PROUD OF HER CHILDREN; GRAND CHILDREN AND GREATS. JANE WILL BE MISSED BY ALL WHO KNEW HER. LOVE, MAY GOD PROTECT YOU IN THIS TIME OF GRIEF. JIM AND JUDY
---
From : DeeDee DelCol
To : Denita and family
Date: May 17th 2022
I am so sorry to hear about Jame. My sincere sympathy to your family. Prayers to all.
---
From : The Ellison Family
To : Leno and Family
Date: May 18th 2022
We are so sorry to hear of Jane's passing. She was a wonderfully sweet woman and I am glad to cherish so many warm memories of her. Our prayers are with you and your family during this difficult time.
---
From : Kathy Arnold
To : Denita and Family
Date: May 18th 2022
So sorry to hear of your mom's passing. We always shared a pew at Sunday Mass. She was sweet and always smiled. Please let your Dad know that I am keeping him in my prayers.
---
From : Edna Norton
To : Jane Bevilacqua
Date: May 18th 2022
So sorry, condolences to the family.
An angel has completed her work on earth.
---
From : Vicki Small
To : Uncle Leno and family
Date: May 18th 2022
My deepest sympathies and prayers for Uncle Leno and his family. Aunt Jane was the sweetest, kindest soul. She always had a hug and kind word for me. I truly loved her. She will forever be in my heart, just like Uncle Leno.
---
From : Rich & Sandy Kaylor
To : Leno and family
Date: June 14th 2022
Jane , was such a great person and loved by all .Will always remember the times we talked about the old neighborhood Milo where are families grew up. Rich & Sandy
---