James Policaro
May 15 1941 - July 24 2023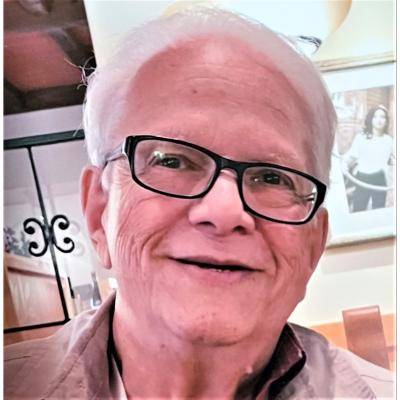 Visitation :
John Quint Treboni Funeral Home
Tuesday August 1st 2023 4-7 pm
1177 W. 5th Avenue
Columbus Ohio 43212
Map
Services:
Funeral Mass
Wednesday August 2nd 2023 at 11:00 am
St. Mary Magdalene Catholic Church
473 S. Roys Avenue
Columbus , Ohio 43204
Map
Friends and Family are asked to meet at the Church
---
---
---
Obituary
James P. Policaro, age 82 of Columbus died on Monday July 24, 2023 at Doctor's West Hospital. James owned and operated the Casa Bella Styling Salon and Boutique along with his wife Joyce and sister Patricia, for over 50 years. He truly loved his profession as well as his clients. Jim served in the Ohio National Guard. He attended Columbus Art Design as well as cosmetology school. Jim was preceded in death by his parents, Patrick and Mary (Mastrione) Policaro; many deceased relatives including aunts, uncles, cousins and dear friends. He is survived by brother, Dominic (Polly); sister Patricia Policaro; nieces, Gina and Lisa Policaro; brother and sister-in-law, John Galvin, Gloria Ely, Michele Benedict, David Galvin, Timothy Galvin and spouses and threir children. Also survived by his uncle, Jim Mastroine and cousin Joe Gerardi, and sons- Joe, Jim and Sam; and Roseann (Jim) Skinner. A special thanks to Trueman Point Care Center and its wonderful staff. Also to Doctors West Hospital and its staff, To Michael Graham and Diana Fitch for their ongoing care of Jim, and to special friend Karen Meyers. A visitation will be held at the John Quint Treboni Funeral Home, 1177 W 5th Avenue, Columbus, Ohio 43212 on Tuesday, August 1, 2023 from 4-7pm. A Funeral Mass will be held the next day on Wednesday, August 2, 2023 at St. Mary Magdalene Catholic Church, 473 S. Roys Avenue, Columbus, Ohio 43204 at 11am with Father Anthony Davis celebrant and Father Slawomir Siok con celebrant. A procession will follow to St. Joseph Cemetery, 6440 S. High Street, Lockbourne, Ohio 43137. Condolences may be left at www.johnquint.com
---
Condolences for James Policaro
---
From : Chris Montenaro
To : Patti
Date: July 25th 2023
I am so sorry for the loss of your brother, Jim. I enjoyed talking and visiting with him when we were together at the casino. You and your family are in my prayers
---
From : Chrissy Sansbury
To : Aunt Patty
Date: July 25th 2023
Rest in peace my sweet Uncle Jim.
He was one of the most creative and artistic individuals I've ever known.
I will never forget how he taught me all about Fabergé eggs and I became completely fascinated with them. Everytime I see a decorative egg, I think of him. He'd also entertain the entire table at a restaurant by making exquisite origami out of napkins and he could decorate the most elaborate Christmas trees you've ever seen. He gave me my first haircut and my first little job at 14 sweeping hair at casa Bella on Saturdays. I will always remember the good times with him ❤️
---
From : Kathy Lowe Meyers
To : Patty and Donnie
Date: July 26th 2023
I am so sorry for your family. Jimmy always made me laugh and had the silliest names for Vicki and I. I miss my sisters every single day and keep them alive with my memories, prayers, pictures and thoughts. I'm sure Roberta and Valerie were right there at the gate to welcome him home. Hugs and Prayers to all of you.
---
From : Connie Phillips
To : Patti and Family
Date: July 27th 2023
I was saddened to hear about Jim's passing so soon after my mother's. I so enjoyed spending time with him and you at Trueman Pointe. His laughter and smile helped all of us get through the challenging days. Patti, you were a loving, dedicated sister. I know how you monitored his care and looked after his needs. He certainly loved you for everything you did.
---
From : Patty Nance Brown
To : Patty
Date: July 28th 2023
So sorry to hear of Jim's passing. I know cousin Joyce is waiting for him with open arms! What a reunion they are having! Celebrating with their loved ones up there! What a great couple who loved being with family and friends!! Patty always welcomed everyone also! Such a loving family!! God be with you Jim! Cousin Patty
---
From : Louis Nobile President Aquinas Alumni Assoc
To : James Policaro Family
Date: July 30th 2023
The Aquinas College High School Alumni Association sends its sincerest condolences to the family of James Policaro. He will be missed by his class of 1959 classmates and all of his fellow alumni. A Mass will be offered for him by a Dominican Friar at St. Patrick Church, Columbus Ohio.
---
From : Deb and George Acock
To : Dominic and family
Date: July 30th 2023
We extend our deepest sympathies to you and your family.
---
From : Sarah Fuoco
To : Uncle Jim
Date: July 30th 2023
Uncle Jim, it seems like yesterday you were giving me and my sisters perms. You cut my hair for my first modeling gig and did my hair for my Wedding Day. That was so special and you were right about it being "timeless". Too many beautiful memories with my cousins throughout the years . From our swimming days, synchronized swimming acts, love and laughter. The sleepovers were always so much fun! I loved helping you in the kitchen as you showed me how to cook a 3 course meal for 30 Italians, you made it look so easy. Thanks for all you have done for my Mom and my family. We will cherish the memories. Love you
---
From : Rose Ann Johnson Skinner Jim Skinner
To : Patty Policaro Don Policaro Families
Date: July 31st 2023
Dear Patty, Don & Families,
I am brokenhearted to hear that Jim has passed away! We share so many good memories through the years! I loved the times our whole family got together at your houses or Grandma Policaro's. We always had such a good time laughing and enjoying Italian food. Jim was always so kind & funny too. And then there were the many years that Jim fixed my hair. Boy the styles of changed since then. No more bu fonts. I love you all so much and regret we are unable to be there, during this difficult time. It takes a weeks planning to get there these days, with obligations at home to coordinate. May Jim R.I.P. Loving prayers for all the family. Rose Ann & Jim Skinner
---
From : DAVE AND BECKY KIENZEL
To : DOM AND POLLY POLICARO
Date: July 31st 2023
SO SORRY TO HERE OF YOUR LOSS. SENDING LOVE AND PRAYERS TO YOU AND YOURS. LOVE YOU BUNCHES
---
From : Patty Scales Clark
To : Policaro Family
Date: August 2nd 2023
Patti,Joyce,Dominic & RoseAnne I remember taking Mom(Anna Ruth Scales) to your shop to get her hair done. Mom would only let Jim do it. I am so sorry for your loss. You are good people.
---
From : Mike and Sandy Capoziello
To : Patti and families
Date: August 10th 2023
We just found out about James passing. Keeping you in our thoughts and prayers. May God bless you and be with you always.
---