James Sigfred Graf
November 15 1938 - September 19 2022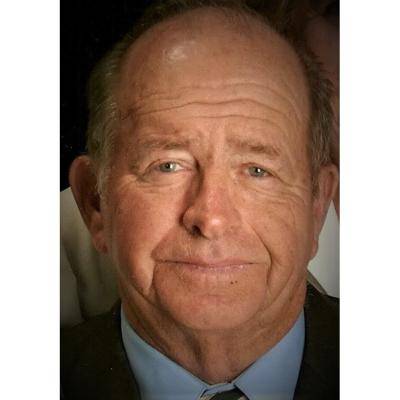 Visitation :
John Quint Treboni Funeral Home
Friday September 23rd 2022 4-6 PM
1177 W. 5th Avenue
Columbus Ohio 43212
Map
Services:
Mass of Christian Burial
Saturday September 24th 2022 at 12:00 pm
St. John The Baptist Catholic Church
720 Hamlet Street
Columbus , Ohio 43215
Map
PLEASE MEET AT THE CHURCH FOR MASS
---
---
Obituary
James Sigfred Graf born November 15, 1938 to the late John A. Graf and Catherine Jean O'Shaughnessy Graf, passed away September 19, 2022. Jim was born in Ouray, Colorado and grew up in Evanston, Illinois. He graduated from St. George High School in 1956, and attended Marquette University where he met the love of his life and wife of 62 years, Rose Ann Guzzo. After graduating with a degree in finance in 1960, Jim made Columbus, Ohio his home. He and Rose Ann raised five children: Jeanine (Peader Lang) Graf, Eric (Kelly) Graf, Marc Graf, Mary Lynn (Jeff) Caswell, and Jennifer (Dwayne) Elliott. He adored his 13 grandchildren, Mary Kate Graf, Jamie Graf, Eric (Kennedy) Graf Jr., Paul Lang, Jessie Graf, Meredith Caswell, Anna Lang, Josie Graf, Alec Caswell, Grace Elliott, Jordan Graf, Caroline Elliott, and Reid Caswell. He is predeceased by his brothers, Jack Graf and Gerald "Jerry" (Mary Ellen) Graf. Jim and Jerry were best buddies. James is survived by his sisters, Judy (Tom) Hale, Jane (Doug) Kutz; sisters-in-law, Juanita Steilen and Nancy (Tom) Cannon; brothers-in-law, Lee (Barbara) Guzzo, Richard (Nancy) Guzzo, and many dear nieces and nephews. James served in the Ohio Air National Guard 1961-1967. He belonged to many worthy organizations. He was vice president of Alpha Kappa Psi fraternity. He was president of the Northland Civic Association and built many large floats for the Northland 4th of July Parades. James was a swim coach for young swimmers for many years, and his athletes were known as "Jim's Juniors". He was always an active member of his parishes, including St. Anthony, St. Michael and most recently St. John the Baptist. Jim volunteered his time with the GAC, was president of Flytown and a member of the Homeplate club. His Friday Dinner Club is famous and still going strong. Jim was the respected owner and operator of J. Graf and Sons Excavating company and provided employment for many in good times and bad. He loved the beach, vacations and a good party. He enjoyed entertaining and never passed up an opportunity to help someone in need. He loved going to his kids' sporting events and was a father figure to many. He was a wonderful and loving husband, father, grandfather, and a devoted brother and friend. He took in strays both animals and people. He lived his life with a sense of commitment, gratitude and joy, and is an example for us all. We are all better because we knew him. His grateful heart and eternal optimism will endure. Family will receive friends from 4 p.m. to 6 p.m. at John Quint Treboni Funeral Home, 1177 W 5th Avenue, Columbus, Ohio, 43212, on Friday, September 23, 2022. A Funeral Mass will be held at St. John the Baptist Church, 720 Hamlet Street, Columbus, Ohio 43215, in Italian Village at 12 noon on Saturday, September 24, 2022. Msgr. John K. Cody, Celebrant, Assisted by Deacon. Frank Iannarino. In lieu of flowers, memorial donations may be made to Tunnel To Towers Foundation T2T.org. Condolences may be sent via www.johnquint.com
---
Contributions
Contributions may be directed to any of the following
---
Condolences for James Sigfred Graf
---
From : William and Cynthia Moler
To : The Graf Family
Date: September 20th 2022
Our most sincerest condolences for your loss. You are in our thoughts and prayers at this very difficult time.
---
From : Suzanne Guzzo Hall
To : Graf Family
Date: September 21st 2022
With my deepest sympathy for your loss. My thoughts and prayers are with you all.
---
From : Wayne and Vicki Elliott
To : The Graff Family
Date: September 21st 2022
Vicki and I are saddened to hear the passing of a wonderful friend. Jim was a very interesting conversationalist and we enjoyed many talks.
---
From : Rita and Tom Myers
To : Graf Family
Date: September 21st 2022
Our thoughts and prayers are with the family during this very difficult time. We were fortunate to have known him.
---
From : William and Rose Knorwood
To : The Graf Family
Date: September 21st 2022
Thinking of you and wishing you moments of peace and comfort as you remember Jim. He was a remarkable man and will be truly missed.
---
From : Joe and Rekha Korinko
To : Jenn
Date: September 21st 2022
We are so sorry about your father. I can imagine how wonderful he was considering how wonderful you are. Love you very much. Our thoughts and prayers are with your family this upcoming weekend.
Love,
Joe and Rekha
---
From : Marc
To : The Graf Family
Date: September 22nd 2022
My father had taught me so many things. One important lesson from Dad; what makes someone truly successful. What I have learned from my father about success, can best be summarized in a quote from Ralph Waldo Emerson.
"What is success?...
To laugh often and much; to win the respect of intelligent people and the affection of children; to earn the appreciation of honest critics and endure the betrayal of false friends; to appreciate the beauty; to find the best in others; to leave the world a bit better, whether by a healthy child, a garden patch Or a redeemed social condition; to know even one life has breathed easier because you have lived. This is to have succeeded!"
I love you Dad.
Thank you for everything your son.
---
From : Fred De Santis
To : James Graf
Date: September 22nd 2022
My deepest condolences for James .He was one our greatest golf partner and he will be missed. May he be blessed and have a great trip.RIP.
---
From : Sharon Tornes Petty
To : The Graf Family
Date: September 23rd 2022
You are in my thoughts and prayers. So sorry to hear of the loss of such an amazing father.
---
From : Crystal Harmon and Christopher page
To : The Graf family
Date: September 23rd 2022
Our hearts and prayers go out to you he a b d Willie page were the best of friends and they shall meet again in Heaven
---
From : Torrel Cannaday EAGLES
To : Graf family
Date: September 23rd 2022
I never had the pleasure of meeting Jim but from what I've heard he was a wonderful man!!! Great ❤️. Sorry for your family loss and thank you for having such a wonderful man that helped the Eagles be the Eagles!!! 🦅Fly high Mr. Graf.
---
From : Bernadette Marchi
To : The Graf Family
Date: September 23rd 2022
I am so sorry for your loss. Jim was a wonderful person who always me feel welcomed to be part of the family. Prayers and love.
---