Ilva D'Angelo
April 25 1924 - August 22 2022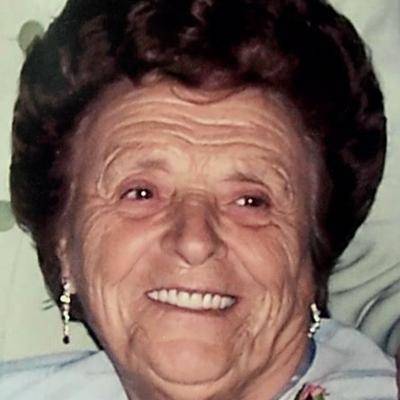 FAMILY AND FRIENDS ARE ASKED TO GATHER AT THE CHAPEL FOR HER FUNERAL MASS
Services:
Mass of Christian Burial
Thursday September 1st 2022 at 12:00 pm
Resurrection Cemetery Chapel
9517 North High Street
Lewis Center , Ohio 43035
Map
PLEASE MEET AT RESURRECTION CHAPEL FOR MASS
---
---
Obituary
Ilva DiRienzo D'Angelo passed away surrounded by family on August 22, 2022, at the age of 98 in Hollywood, Florida. She was born April 25, 1924, in Introdacqua, Italy. Preceded in death by husbands Arnaldo Bonfini and Fabrizio D'Angelo; parents Urgente and Iolanda DiRienzo; daughter Caterina Frissora; sisters Olimpia DiRienzo, Concettina Abbondanza and brother Vincent DiRienzo. Survived by daughter Maria Marcella Bonfini and son Francesco (Kathleen) Bonfini; sisters Annetta DiPasquale, Bambina Ventresca, and Elia Ventresca; many nieces, nephews and friends; 22 grandchildren and great grandchildren: David (Kristen) Evan, Clara Frissora; Debra (Ryan) Aiden, Adam Thom; Catherine (Adam) Natalie Burke; Robin (Brent) Chase Savage; Christina (Jay) Sawyer, Grace, Levi Williams; Amy (Patrick) William, Greyson Vensel; Arnaldo (Kara) Noah Bonfini; Danielle (Ryan) Olivia, Ava Buckley. Ilva loved to cook and share meals with her family. Her green thumb was apparent in her gardening of flowers and vegetables alike. Her faith was strong and very important to her. She will be greatly missed. Mass of Christian Burial will take place on Thursday September 1, 2022, at Resurrection Cemetery Chapel 9571 High Street Lewis Center, Ohio. Arrangements under the care of THE JOHN QUINT TREBONI FUNERAL HOME.
---
Condolences for Ilva D'Angelo
---
From : Catherine DiPietro
To : Marcel
Date: August 29th 2022
My deepest condolences on the loss of your mom. She was a very sweet woman.
---
From : Fred Clem
To : Francesco and Marcella
Date: August 29th 2022
I have so many fond memories of time spent with your Mother & my Aunt Maria: in Columbus, in Florida, in New York & on cruise ships. What a wonderful lady. May she rest in peace.
---
From : ROSEANN MONTALI
To : ILVA DANGELO
Date: August 29th 2022
She was like a mom to me - I have so many happy memories with Ilva and my family will miss her alot. She taught me how to garden and how to cook. I loved her alot. May God bless her and I know she will keep looking out for us.
---
From : LuAnne Russell
To : Marcel
Date: August 29th 2022
God Bless You and your family Marcel. Ilva was one of the sweetest people on earth. So very sorry.
---
From : Digati Family
To : Maria
Date: August 29th 2022
Dad and I, my brother,
Matt and his wife, Jennifer extended our deepest condolences. Know that you are in our daily prayers.
We loved Nonna and we are grateful for the times we got to share with her. We will miss her and remember her fondly, always.
God's peace be with you and your family. Our hearts are with you. 🙏⚘
---