Frank Gonzalez
June 27 1962 - May 27 2023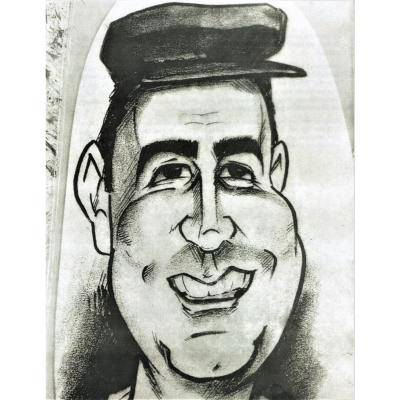 Visitation :
John Quint Treboni Funeral Home
Thursday June 1st 2023 4-8 pm
1177 W. 5th Avenue
Columbus Ohio 43212
Map
Services:
Funeral Mass
Friday June 2nd 2023 at 10:00 am
St. Margaret of Cortona Catholic Church
1600 N. Hague Avenue
Columbus , Ohio 43204
Map
---
---
---
Obituary
We are sad to announce the passing of Frank Gonzalez. He was the proud founder of Columbus Fish and Seafood and Franks's Fish Market. Family, friends and customers will fondly remember him as "Frank the Fish Man." Frank passed away peacefully at home on Saturday, May 27, 2023. He is survived by his longtime friend and companion Joann Johnston. He will be dearly missed by his two sons Charles of Hilliard, Ohio and Fransisco of Columbus, Ohio; as well as two grand-daughters, Hailey Kingery and Isabel Gonzalez. Coming from a large family Frank is survived by three brothers, Mike, Milton, and Robert; and sister, Juanita all from the Youngstown area. He was uncle to many nieces and nephews. He is preceded in death by his parents, Miguel and Hartsena (Watson); his brother Edward; and sister Elaine. Family will welcome friends on Thursday, June 1, 2023 for a viewing at the John Quint Treboni Funeral Home, 1177 W 5th Ave, Columbus, Ohio 43212 from 4-8 pm. A Funeral Mass will be held on Friday, June 2, 2023, at 10 am at St. Margaret of Cortona, 1600 North Hague Ave, Columbus, Ohio 43204, followed by a procession to Sunset Cemetery. Condolences may be sent via www.johnquint.com
---
Condolences for Frank Gonzalez
---
From : Linda Schwindt
To : Joann
Date: May 30th 2023
I'm so very sorry to hear about Frank. My heart goes out to you and the boys for your loss. You will be in my thoughts and prayers. May God bless you all in this time of sorrow.
---
From : Akis and Maria Fragoulis
To : Joann and Family
Date: May 30th 2023
Our deepest condolences for the loss of our very good friend, Frank. Our thoughts and prayers are with all of you during these difficult times.
---
From : Ben Santana
To : Franks wife and close family
Date: May 31st 2023
I never got the chance to thank frank personally. I'm Elaine's son. After my mom passed he paid for the funeral which was highly appreciate and I wanted to say thank you from the bottom of my heart. Sorry for your loss, rest in peace uncle frank.
---
From : George and Pat Loukoumis
To : Frank and Joann
Date: May 31st 2023
We will all miss Frank so much. We are saddened for his untimely loss. Frank you were our best friend at Spiros, for Jimmy for Nick for George and George for Jerry for Chris, for everyone.
Rest in peace our beloved friend.
---
From : Pete and Meshell Papamihail
To : Family
Date: May 31st 2023
Frank will be missed by all that called him friend, father , uncle, brother. Spiros will not be the same without his presence. Prayers for all for comfort and peace during this difficult time. Rest in peace dear Friend.
---
From : Nick Pipia
To : The Gonzalez Family and Nancy and Trevor
Date: May 31st 2023
I knew Frank on a business relationship basis, but had the pleasure of talking with him many times. We would even find ourselves just calling to catch up on a semi-regular basis. I always enjoyed when I'd call the office and Frank picked up. Our condolences go out to the entire Gonzalez family and our prayers are with you.
Nick Pipia & the entire Wolverine Packing family
---
From : Larry Pishitelli St Margaret Fish Fry
To : Joann and Family
Date: June 1st 2023
I am saddened by the loss of Frank, and will keep him and your family in my prayers. We have bought the fish for the St. Margaret Fish Fry from Frank for 25 years. Frank really took good care of us and gave us the best service and deals. He was very instrumental in the success of the "Best Fish Fry Dinner in Town!" Frank was a good supporter of our parish, and frequently donated things. It wasn't just buying the fish, but it was the pleasant conversation and stories he always shared that made a great relationship. Frank is missed!
---
From : Polly Mowery
To : Joanne
Date: June 1st 2023
Joanne, I'm so sad to hear about Frank's passing and so sorry my health is such that I cannot visit with you at the funeral home. My heartfelt thoughts for you and the family.
---
From : Austin Dixon
To : Columbus Fish Family and Friends
Date: June 1st 2023
Our condolences go out to the entire Columbus Fish family. Frank was a tremendous man and leader. Rest in peace, Frank. Austin Dixon and the entire CenSea Family.
---