Emilie Miller
March 10 1931 - July 24 2022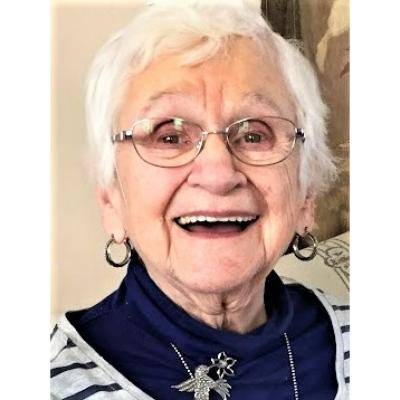 Family and friends are asked to gather at the Church for her funeral Mass.
Visitation :
John Quint Treboni Funeral Home
Wednesday July 27th 2022 4:00-7:00 PM
1177 W. 5th Avenue
Columbus Ohio 43212
Map
---
---
Obituary
Emilie Clara (Adamski) Miller, 91, of Columbus, Ohio peacefully met her Savior on July 24th, 2022, at her home surrounded by her loving family. She was preceded in death by her parents John and Rose Adamski, and siblings Benjamin Adamski, Florence Brzezinski, and Teresa Sniadecki. She is survived by her husband Richard, of 70 years of marriage and 7 children: Mark Miller, Steven Miller (Pamela), Debra Militaru (Calin), Catherine Benson (Steven), Lisa Schechter (John), Christopher Miller (Cheryl), David Miller (Joanie), 13 grandchildren, and 18 great grandchildren, siblings Dorothy Demeter and Annette Fujawa. Born on March 10th, 1931, in South Bend, Indiana. She married Richard Lloyd (Kominowski) Miller on February 2nd, 1952, at St. Joseph Church in South Bend, Indiana. Emilie graduated as Valedictorian from St. Joseph High School in South Bend. She attended the College of Commerce while working at Bendix Aviation in South Bend, Indiana. Emilie worked part-time at Lazarus Department Store, then full-time at ABB for several years. Emilie loved her church, her family, her neighbors, and children. Emilie was devoted and faithful to her family and her church. As a 57-year member of Our Lady Victory Church she was church artisan, choir member, bereavement coordinator, and event planner for the Parish Life Center. She helped organize fish fries and parish festivals. Emilie was generous with her time, talent, and treasure, never missed a birthday, did bible studies, and was a genuine caring and loving supporter to everyone. She was the best baker and cook which was her love language and many were the recipients of this love. Emilie loved a party and was the first one on the dance floor at weddings especially good at the Polka. She was a member of Lajkonik Polish Dance Group. Emilie was a gifted hostess and loved entertaining people in her home. She loved the arts and enjoyed playing bridge, euchre, and Scrabble. Emilie was an avid reader and in a book club, knitted prayer shawls and blankets for the sick and the dying. She was also a member of the OSU Women's Club. Emilie religiously worked crossword puzzles and was a Jeopardy and Wheel of Fortune junkie. She was a world traveler visiting over 26 countries and hosting many international guests in their home. Some of the organizations that were dear to her heart were St. Vincent de Paul, Right to Life, ARC14, and Sisters of Notre Dame. Emilie saw the best and good in everyone and chose to look on the bright side of everything. She never met a stranger and went out of her way to make people feel included. She was a golden thread woven through a beautiful tapestry of life. A special thank you to Kim Buscemi, caregiver, for her tender loving care of Emilie during this past year and Mt. Carmel Hospice. Visitation will be Wednesday, July 27th, from 4-7 pm with a Rosary at 6 pm at John Quint Funeral Home on 5th Avenue. Mass on Thursday, July 28th, at 10 am at Our Lady of Victory Church on Roxbury Rd. Rev. Fr. William A. Metzger, Celebrant and Msgr. Anthony Missimi, Co-Celebrant. In lieu of flowers you can make donations to Our Lady of Victory St. Vincent de Paul or Greater Columbus Right to Life.
---
Contributions
Contributions may be directed to any of the following
---
Condolences for Emilie Miller
---
From : Helena and Gregory Rempala
To : Richard, Lisa & John and Debrah & Calin
Date: July 25th 2022
Dear Friends,
Please accept our most sincere words of sympathy and expression of sorrow at the news of your wife and mom, Emily, passing. We enjoyed every visit with Emily and your kind family. We loved Emily's energy, her laughter, her enthusiasm. We were always moved by Emily's fond memories of the Polish community in Columbus. Her ability to recite prayers and sing Christmas Carols in Polish was impressive! We will miss her gentle, loving presence among us.
Gregory and Helena Rempala with sons
---
From : Dennis & Elaine Rotondo
To : Sick and Family
Date: July 25th 2022
Sick and Family,
We were sadden to here of Emilie's passing. I saw her last year at Peri 's funeral. She looked wonderful and glad to see me.
Remembering fun times and the person who did for Our Lady of Victory that she could possibly do!!
God bless you all and may the Perpetual light shine on her!
Deacon Dennis & Elaine Rotondo
---
From : Dennis & Elaine Rotondo
To : Dick and Family
Date: July 25th 2022
Sorry for the misspelling of Dick in our note!
We love you and are thinking of you in this hard time
Dennis & Elaine
---
From : Mirka Biggs
To : To Emily's Family
Date: July 26th 2022
Dear Dick and Family,
It was with great sadness that I have learnt about Emily's passing. My husband Bob, who since passed away, and I spent many wonderful moments with Dick and Emily at Lajkonik, at the Lajkonik's New Year's Eve party, at various Polish-American events. What a generous spirit Emily was! May she rest in peace.
Mirka Biggs
---