Edith McNary
February 9 1936 - April 15 2022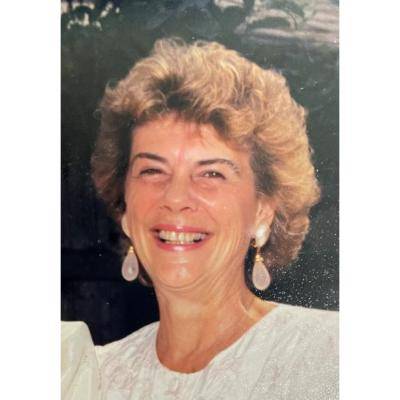 PLEASE MEET INSIDE THE CEMETERY GATE AT 1:45 PM
Visitation :
John Quint Treboni Funeral Home
Tuesday April 19th 2022 4:00-6:00 PM
1177 W. 5th Avenue
Columbus Ohio 43212
Map
Services:
Mass of Christian Burial
Wednesday April 20th 2022 at 10:30 am
Our Lady of Victory Catholic Church
1559 Roxbury Road
Columbus , Ohio 43212
Map
---
---
Obituary
Edith (Edie) M. McNary, 86, passed away on April 15. Edie is survived by her beloved husband Bill of 64 years and their three children, Dana (Tim-deceased) McGinnis, Mike (Bonnie) McNary, and Marcie McNary (Scott Campbell), 5 grandchildren and 6 great grandchildren. Edie grew up in West Virginia and Columbus, graduating from North High School in 1954. Edie was a longtime resident of Upper Arlington who worked in the city's health department for many years. Edie was passionate about music and enjoyed playing the piano and singing. She performed in Vaud-Villities for many years and sang in Our Lady of Victory's church choir. She was a loving mother who adored spending time with her family. Friends may call on Bill and the 3 McNary children and their families on Tuesday April 19, 2022, 4-6 pm at the John Quint Treboni Funeral Home, 1177 West 5th Avenue, Columbus. Mass of Christian Burial will be held 10:30 am on Wednesday April 20, at Our Lady of Victory Church, 1559 Roxbury Road, Columbus. Burial to follow at St. Joseph. In lieu of flowers, the family request that donations be made to Our Lady of Victory Church or Ohio Health Hospice. Please visit www.JohnQuint.com to sign the on-line condolences.

---
Contributions
Contributions may be directed to any of the following
---
Condolences for Edith McNary
---
From : Sue Silcott Ritter
To : Bill and family
Date: April 16th 2022
I am so sorry to hear about Edie's passing. She was such a good friend to my mom. Their friend group all had such fun together. She was always so kind and beautiful and I always enjoyed hearing about her and your family. It's so hard to lose our beloved parents! Love and prayers to you all.
---
From : Bill and Mary Puskas
To : Bill McNary and family
Date: April 17th 2022
Edie was the oldest cousin of all of us in the Clements family. She was the prettiest and at times, the wisest. I thought her parents, aunt Anne and uncle Harry were the nicest people, especially to me and my brother Andy. Edie was just like her parents, always nice to her younger cousins who looked up to her. Edie was also very loving and thoughtful. She was a woman with many talents. Edie and Bill were a team who loved one another and worked well together. Edie will be missed by many but will always remain in our hearts. You have our sympathy and Love.
---
From : Randy & Peggy Markowski
To : Mike McNary
Date: April 18th 2022
Our deepest sympathy to you and your family.
---