Donna Veri
August 9 1927 - July 4 2021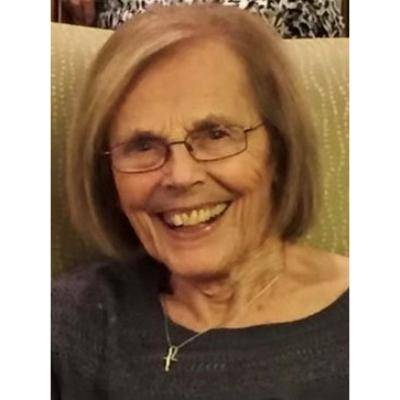 Private family burial.
Visitation :
John Quint Treboni Funeral Home
Thursday July 8th 2021 2:30-5:30 PM
1177 W. 5th Avenue
Columbus Ohio 43212
Map
Services:
Funeral Mass
Thursday July 8th 2021 at 6:00 pm
Our Lady of Victory Catholic Church
1559 Roxbury Road
Columbus , Ohio 43212
Map
---
---
Obituary
Donna Louise DeVictor Veri, age 93, of Upper Arlington, passed away July 4, 2021, surrounded by her loving family. Affectionally known as "Merle" by her children and their close friends, Donna was woman of deep faith and a true force of nature. She was always the rock and advocate for her family and up to her final days was quite adept in social settings. She loved to chat with friends (Weezi, Mary Lou, Martha, Maruja to name a few) and have lunch to catch up on things new with her friend circle. Donna grew up in Grandview Heights and spent many days at the Gloria Supper Club socializing with family and friends. She graduated from Grandview Heights High School ('45) where she was active in choir, tennis and table tennis clubs. After high school Donna attended and graduated from The Ohio State University ('49) and started her career as a buyer for the F & R Lazarus Company. She continued her career in Real Estate and property management (Carriage Hill Condominiums) after raising her family. Donna was Columbus's first Queen Isabella. She was a member of St. John the Baptist Italian Catholic Church, the Piave Club and various social groups based on her Italian Heritage. She volunteered annually in many church activities and especially loved supporting and working at the annual Italian Festival. Donna and her husband Don, along with a close group of friends, travelled the world (Europe, Asia, Scandinavia, Canada) and especially planned trips to Italy to visit the villages of her parents. She was preceded in death by her husband of 61 years, Donald D. Veri '(13); her parents Gaetano and Donata DeVictor as well as all of her siblings: Margaret Lombardo, Yola Bruce, Samuel, Harold, Norman, Albert and Robert DeVictor. She is survived by her children: Donnelle (Eddie) Fracasso, Darice Veri (Masayuki Miyajima), Donald (Joanie) Veri and Darienne Veri and Grandchildren: Anna(Scott) Sorrell, Kai Miyajima, Camille Veri, Jenna Fracasso, Gabrielle Veri, Nicole Fracasso, Cole Veri, Luke Fraley, Reymond Miyajima, Dominic Fraley, Mia Fraley; great grandchildren: Zooey, Zeva and Dominic Sorrell; Sisters-in-law Amelia Browning and Francis Roscoe, numerous nieces and nephews. Special Thanks to Julie Sagstetter for her help and good care over the past few years. Merle was loved by all and will be sorely missed. Family and friends may gather to remember Donna Thursday, July 8, 2:30-5:30 p.m. at the JOHN QUINT TREBONI FUNERAL HOME 1177 W. 5TH AVE. Mass of Christian Burial 6pm at Our Lady of Victory Church 1559 Roxbury Rd. Marble Cliff, Ohio 43212. Rev. Fr. William Metzger Celebrant. Private Burial Friday July 9, St. Joseph Cemetery, 6440 S. High St. Lockbourne, Ohio. In lieu of flowers, contributions may be made to the Alzheimer's Association at alz.org, cancer research at pelotonia.org or Ohio Health Hospice at foundation.ohiohealth.com. Condolences may be sent via www.johnquint.com
---
Contributions
Contributions may be directed to any of the following
---
Condolences for Donna Veri
---
From : Tammy (Elliott) Kaye
To : Donnelly, Darice, Donald and Darien
Date: July 7th 2021
All my love and prayers for you and Aunt Donna. She was always a joy to be around. She will be dearly missed. I've thought of her often over the past few years as our family seems to lose touch with each other as we all get involved with our own little families. But Aunt Donna was special and I'll
remember her in a special place in my heart. Love to you all.
---
From : Lori Beck
To : The Family
Date: July 8th 2021
To a wonderful woman and the rock of the Veri family! She had a beautiful smile and always made me feel like I was part of the family. May she rest in peace.
---
From : Ann Wollett Snyder
To : The Veri Family
Date: July 14th 2021
I am so sad to hear of that darling "girls" passing. what a wonderful soul. Knew her for many years. met her in Real Estate..and then did a lot of business together regarding Carriage Hill Condos. such fun to talk to and was helpful in so many ways..RIP,Angel. you will be missed.
---