Diva Marie Volpe
August 13 1933 - April 16 2023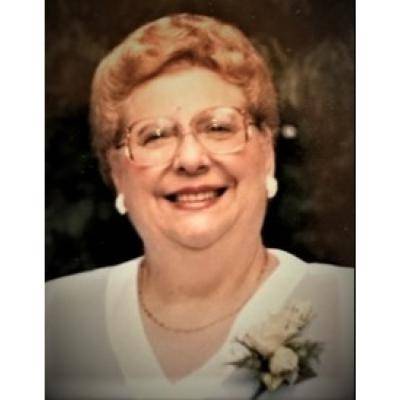 Visitation :
John Quint Treboni Funeral Home
Thursday April 20th 2023 4-7 pm
1177 W. 5th Avenue
Columbus Ohio 43212
Map
Services:
Funeral Mass
Friday April 21st 2023 at 11:00 am
St. James the Less Catholic Church
1652 Oakland Park Avenue
Columbus , Ohio 43224
Map
Friends and Family are asked to meet at the Church for her Funeral Mass
---
---
Obituary
Diva Volpe, 89, of Columbus, Ohio passed away on April 16, 2023 at Capri Gardens. She was born August 13, 1933 in Introdacqua, Italy. Preceded in death by parents Simone and Eva Castrodale, stepmother, Mary Vullo Castrodale, sister and brother-in-law, Sintia and Salvatore DiFrancesco, sister-in-law and brothers-in law, Jeannine Volpe, Isidore Volpe, Dr. Elmer Cox, and Eugene Lepard, nephews David Volpe and Leo DiFrancesco. Diva married Evaldo Volpe on October 22, 1955, who also preceded her in death. She is survived by her brother, Phillip Castrodale of Yardley, PA, sister, Lodina Lepard of Feeding Hills, MA as well as her children; Carl (Kathie) Volpe of Columbus and John (Rita) Volpe of Lewis Center; grandchildren Jeanne-Marie (Lonny) Young, Patrick Volpe, Caitlin Volpe, Isabella, Lia and Giana Volpe; great-grandchildren Emma, Abigail, Natalie, Lilly, and Samantha Young; sister-in-law, Mary Ann Cox; many nieces, nephews, cousins and friends. Diva was a long-time cashier at Big Bear and worked at Classy Lady bridal shop. She loved music and spent many years singing in the church choir and with Sweet Adelines. Most of all, she loved spending time with her grandchildren and great-grandchildren. The family will receive friends on Thursday, April 20, 2023 from 4-7 pm. at the John Quint Treboni Funeral Home, 1177 W 5th Avenue, Columbus, Ohio 43212. A Funeral Mass will be held on Friday, April 21, 2023 at St. James The Less Catholic Church, 1652 Oakland Park Avenue, Columbus, Ohio 43224 at 11 am. A procession will follow to Resurrection Cemetery, 9571 N. High Street, Lewis Center, Ohio 43035. Condolences may be sent via www.johnquint.com
---
Condolences for Diva Marie Volpe
---
From : Jean and Ed Yackenovich
To : Volpe Family
Date: April 19th 2023
Sending our deepest condolences and wishing you comfort and peace Knowing Diva is going home to her family in heaven
---
From : Jacquie and Pat Beall
To : Rita and John Volpe and family
Date: April 19th 2023
We loved her dearly and always loved visiting with her at the family get-to-gethers.
---
From : Dina Schnitzer
To : John Carl Family
Date: April 20th 2023
My deepest sympathy for the loss of your mom. I will always remember her sweet smile and will miss talking to her. She is now in peace. Love to all
---
From : David DiFrancesco
To : Diva Marie Volpe
Date: April 20th 2023
Thank you Diva for being such a wonderful person in our lives. You were a bright and shining light even during the tough times. I am so happy I could grow up with you and the family. You are sorely missed by many but I know you're in a good place now.
---
From : Kathy Difrancesco
To : John and Rita and Carl and Kathie
Date: April 20th 2023
Aunt Diva was my aunt through marriage and she became a treasured friend. We had such good times together and it is those precious memories that will help me through my sadness at her passing. Love you, Aunt Diva. Rest in peace.
---
From : Diana and John Marzluf
To : The Volpe family
Date: April 20th 2023
We are saddened to learn of Diva's passing. She is a special lady! Cherish the memories you have of her and we send our prayers and love.
---
From : Mary Parrish
To : The Volpe Family
Date: April 21st 2023
I wish I had the words to ease your pain during this difficult time. Please know that you are in my thoughts and prayers.
---
From : Barbara Fischer
To : Mary Ann Volpe Cox
Date: April 21st 2023
Sincere condolences. I remember Diva from many years ago.
---
From : Robert and Jennifer McGonigle
To : Mary Ann Volpe Cox
Date: April 26th 2023
Our sincerest sympathies Mary Ann. Diva was so loving and fun to be around. A true sweet heart! Much love to you!
---