Diana Linik
October 10 1971 - April 28 2023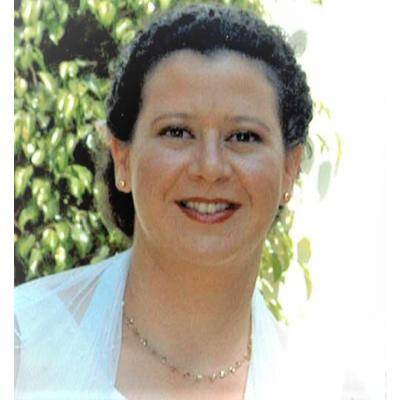 Visitation :
John Quint Treboni Funeral Home
Friday May 5th 2023 5-8 pm
1177 W. 5th Avenue
Columbus Ohio 43212
Map
---
---
---
Obituary
Diana was predeceased by her father Gregorio Linik, her aunt Catalina Linik, her grandmothers, Elsa Staravolsky and Esther Novick, grandfathers, Abraham Linik, and Mauricio Trilnick. She is survived by her husband Jose Alvarez de la Puente, son Gabriel Alvarez Linik, daughter Laura Alvarez Linik, mother Lucila Linik, brother Joel Linik, sister-in-law Gabriela Linik and sister Abby Linik. After Diana attended the San Isidro High School, she went on to study at School of Fine Arts Prilidiano Pueyrredon in the city of Buenos Aires, earning a degree in Fine Arts in 1996. She completed her studies at the Pennsylvania Academy of Fine Arts. Diana was an avid artist and lover of all things. Her favorite medium was oil on canvas, and she was an academic abstract artist. Diana's work was exhibited in many major international galleries and institutions. She was loved throughout her life for her kindness, awareness of her surroundings, and caring commitment with everyone she met. The family asks that donations be made to www.prasad.org in memory of Diana Jaya Linik. A Celebration of Life will be held at the John Quint Treboni Funeral Home, 1177 W 5th Avenue, Columbus, Ohio 43212 on Friday, May 5, 2023 from 5-8 pm. Condolences may be sent via www.johnquint.com.
---
Contributions
Contributions may be directed to any of the following
---
Condolences for Diana Linik
---
From : Mrs Saunders
To : Mr Alvarez and family
Date: May 2nd 2023
So sorry to hear of the passing of your wife and mother. I'm sure she'll be sorely missed by all. Please hang on to the memories you shared as this will help you all get through her untimely passing. Words cannot express my sincere condolences. I'll keep you all in my thoughts and prayers.
---
From : Dr Casey Sanders
To : Dr Jose Alvarez and family
Date: May 3rd 2023
Peace and strength to you and the family in this time of loss and season of deep grief. May you find joy in the memories of love which you have created through the years.
---
From : Christy Olson
To : Alvarez
Date: May 5th 2023
I am sorry for your loss. My prayers are with you and your family.
---
From : Farhia Abdi
To : Linik Family
Date: May 5th 2023
It was great to have met and worked with Diana, she was a great human. I am truly sorry for your loss, and I will keep your family in my prayers.
---
From : Carmen Veguilla
To : Linik Family
Date: May 5th 2023
Hoy mi corazón está muy dolido por la partida de mi amada Diana. Mi más sentido pésame y un fuerte abrazo, los amo de todo corazón.
---
From : Valinda Rodriguez Aguirre
To : Familia Alvarez Linik
Date: May 5th 2023
Les doy mis mas sinceras condolencias, y les envio mucha fuerza y luz, que la paz del Señor les acompane siempre.
---