Bradley Calvin
July 31 1978 - April 24 2022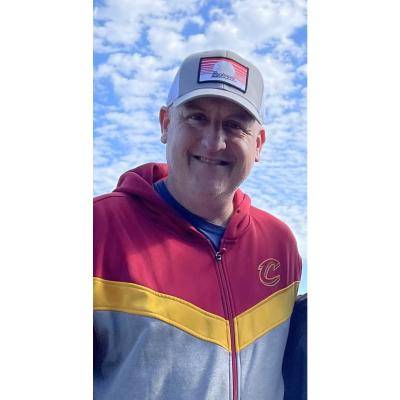 FRIENDS ARE ASKED TO MEET AT CHURCH
Visitation :
Our Lady of Victory Catholic Church
Tuesday May 3rd 2022 3-5:30 PM
1559 Roxbury Road
Columbus Ohio 43235
Map
Services:
Memorial Mass
Tuesday May 3rd 2022 at 6:00 pm
Our Lady of Victory Catholic Church
1559 Roxbury Road
Columbus , Ohio 43212
Map
---
---
Obituary
Bradley Danner Calvin of Grandview Heights, OH, age 43, passed away on April 24, 2022, at the James Cancer Hospital after a tremendous 15-month fight with esophageal cancer. His wife Michelle and his 5 children, Owen, Ady, Elly, Aidan, and Emy were by his side as he went home to our father in heaven. Brad was born in Columbia, Missouri on July 31, 1978, to Christopher and Sue Woods Calvin. He graduated from Grandview Heights High School in 1997, where he played basketball and his claim to fame, voted "Class Clown" and "Best Personality". He completed college course work at Columbus State Community College and The Ohio State University. Brad married Michelle Renee Mehling on July 10, 2004, at Our Lady of Victory Catholic Church in Marble Cliff, OH. They welcomed 5 beautiful children together: Owen Michael; Adalyn Grace; Elly Gabriel; Aidan Christopher, and Emsley Ann. Brad was outgoing and charismatic; he always made you feel welcomed and loved. He enjoyed helping others and followed his passion into hospitality management. Brad worked for Paul's Fifth Avenue and The Rusty Bucket before becoming Director of Operations for Local Cantina. Brad took pride in his work; taking Local Cantina from 2 stores when he first started in 2014 to over 20 stores currently with multiple concepts. He was ambitious and passionate about his work, making friends with all co-workers and colleagues. He always strived to grow as a person and wanted to help others be the best version of themselves. Brad was raised in Grandview Heights and wanted his family to be raised in Grandview Heights. He loved and was proud of his community. Brad worked as Parks and Recreation Supervisor for Grandview Heights when younger and always stressed the importance of giving back to the community. He volunteered at numerous events; coached many youths basketball teams; donated and catered food to many community organizations and sports teams. He relished in the small town feel of Grandview Heights. For Brad believed "If you give, you begin to live" Dave Matthews. Brad made friends wherever he would go, and these friendships were lasting! He had the ability to bring laughter and joy to all those around him. An avid Dave Matthews Band fan, member of the Fat Man Club, and parishioner at Our Lady of Victory Catholic Church. He enjoyed traveling to numerous sporting events and concerts, especially OSU Football games and the Cleveland Cavaliers. Brad your courage and strength this past year and half was a miracle in itself. You have inspired countless individuals and will continue to inspire others. You are a man of Faith and your dedication to the church this past year shows your true character. As you enter the gates of heaven, please prepare a home for your family when we see you again! Make sure we have a golf cart or two! Brad is survived by his wife Michelle and their 5 children, Owen, Ady, Elly, Aidan, and Emy Calvin and our dog Rocco LeBron. His parents Chris and Sue Woods Calvin; sister, Sarah Calvin. Sister in laws; Kristen (Jay) Luikart; Larissa (Lawrence) Cappetto; father-in-law, Michael Mehling, brother in laws; Dominic Mehling (Kathryn Schlosser), and Samuel (Katherine Mehling). Aunts Carolyn (Charlie) Strancke; Kathy Woods Pobjoy (Andy), and Uncles James "Chip" Woods (Judy); Douglas Calvin (Teri); and many cousins; nieces, and nephews. Proceeded in death by grandparents, Harold Calvin, James Woods, Gloria Danner Woods, Uncle Thomas Calvin, mother-in-law, Barbara Mehling, brother-in-law, Augustine Mehling. The family will receive friends Tuesday May 3, 2022, 3-5:30 pm at Our Lady of Victory Church 1559 Roxbury Columbus, Ohio 43212 where his Memorial Mass will begin at 6:00 pm. There will be a reception following mass in the Msgr. Ciotola Life Center. Arrangements entrusted to the JOHN QUINT TREBONI FUNERAL HOME 1177 W FIFTH AVE COLUMBUS, OH 43212. Please visit www.JohnQuint.com to view the full obituary.




---
Condolences for Bradley Calvin
---
From : Daniel Masse
To : The Calvin family
Date: May 1st 2022
It is with heart felt sorrow that I offer my condlolences to the Calvin family on the loss of Brad.Although I did not know him,I went to GHS with Chris and played music over the years.I have been praying for Brad since learning of his fight from his father.I also went to OLV as well as my parents.My prayer is that the The Holy Spirit give you all strength and shepard you with comfort dur ing this most trying time.Knowing that Brad walks in the radiant light of Our Lord Jesus Christ and is no longer suffering.May God bless the entire family.
---
From : Ellie Inglesi & Jim Tennyson
To : The Calvin Family
Date: May 2nd 2022
Our sadness, we know, is shared by many; our prayers are with you. Brad so welcomed us when we met him at what is now Paul's on Fifth, always sharing the interest of music and personal bits of news. He was so excited at the prospect of his marriage, and then at the birth of your older children. We didn't see him in later years, but remembered his sweetness, his enthusiastic friendliness and his joy in life. We join you in celebrating his generous spirit.
---
From : Stacey Callahan
To : Michele Calvin
Date: May 3rd 2022
Sending my thoughts and prayers to you, your children and the rest of your family.
Sincerely,
Stacey
---
From : The Bechtel Family
To : The Calvin Family
Date: May 3rd 2022
Brad will be missed. He and his family are what Grandview is all about, the fabric of a community that makes it a special place to live, raise a family and make the world a better place. Peace and love to you Calvin family, we are all here for you.
Love The Bechtel's; Heidi, Joe, Adrienne, Adelle and Adam.
---
From : Jean Cody
To : Michelle Calvin
Date: May 3rd 2022
Michelle, I am holding you and your children close to my heart at this very sad time. Jean Cody, TUMPS
---