Anita Policaro
July 27 1936 - June 6 2022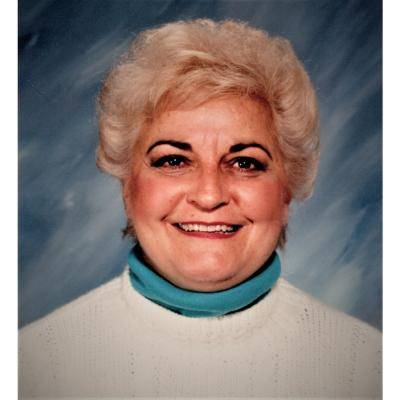 FAMILY AND FRIENDS ARE ASKED TO GATHER AT THE CHAPEL FOR HER FUNERAL MASS
Visitation :
John Quint Treboni Funeral Home
Tuesday June 14th 2022 4-7 P.M.
1177 W. 5th Avenue
Columbus Ohio 43212
Map
Services:
Funeral Mass
Wednesday June 15th 2022 at 12:00 pm
Our Mother of Sorrows Chapel
6440 S. High Street
Lockboune , Ohio 43137
Map
---
---
---
Obituary
Anita M. Policaro, age 85, who was born on July 27, 1936, in Columbus, Ohio, the only daughter of Armando J. Amicon and Vera (Dascenzo) Amicon, passed away on Monday, June 6, 2022, in Pawleys Island, South Carolina. Anita graduated from Grandview Heights High School in 1954. Best known as "MRS. P" at her 23 year career as a Teacher's Assistant at the Northwest Career Center, Dublin, Ohio, inspiring students to continue in a career path in the Culinary Arts. Anita was involved in the Dublin Youth Athletic Program overseeing concession stand ordering/sales for several years leading into preparing and cooking pre-game meals for the varsity football team at Dublin High School. She was a "second Mom" to many Dublin High School students over the course of her three children growing up in the Dublin School System. Anita is proceeded in death by loving husband Francis Policaro, her parents, and her brother Armando Amicon Jr. Anita is survived by her children, Michelle Policaro (Jeffrey) Snyder, Michael Policaro (Kyle) Policaro, Thomas Policaro; four grandchildren, Alysia A. (Randall) Sant, Anthony Policaro, Giovanni Policaro, and Francesca Policaro; Great-granddaughter, Phoenix Sant; along with nieces and nephews, David Amicon, Christine Amicon, Jennifer Amicon, and Mark Amicon. Her family will receive friends on Tuesday, June 14, 2022 from 4-7pm at the John Quint Treboni Funeral Home, 1177 W 5th Avenue, Columbus, Ohio 43212. A Mass will be held Wednesday, June 15, 2022 at 12 noon at the Our Mother of Sorrows Chapel inside St. Joseph Cemetery, 6440 S. High Street, Lockbourne, Ohio 43137. Condolences may be sent via www.johnquint.com
---
Condolences for Anita Policaro
---
From : Michelle and John Colaiacovo
To : The Policaro And Snyder Families
Date: June 13th 2022
Micki, Mike and Tommy,
We loved Anita as our own and will truly miss her wit, long conversations and beautiful smile. You were blessed to have her in your life as your mother, and we were blessed to have her as a dear friend . She is with Frank now, and free of pain%uD83D%uDE4F We pray you are comforted in this transitional time. Much Love %uD83D%uDC95 Michelle and John
---
From : Jennifer Lape
To : Michelle & Tommy
Date: July 20th 2022
Michelle & Tommy ~ My sincere condolences in the passing of your mom. She was such an amazing lady and will be missed. We were fortunate to have her and Frank as neighbors for the years we did. Keeping your family in my prayers.
---
From : Ken Sharon Cashner and Dascenzo Family
To : Michelle Michael and Thomas and Children
Date: February 11th 2023
Dearest Michelle, Michael, Thomas and Children, We recently heard of the loss of your dear Mother. We are very sorry, and, heartbroken. Anita was a beautiful woman with a warm heart, filled with enough love for everyone. And, so much fun. We loved her bright spirit, generosity; and, her dedication to you, her beautiful family. Your precious memories of your Mother and Father will give you peace again.
With Our Love, Ken, Sharon, Patricia, Ron, Bill and Dascenzo Family
---