<! #### Start Of Menu Include ########> <! ###############Current Services###################>

<! ###############About Us###################>

<! ###############About Us Sub Menu###################>

<! ###############Advanced Planning###################>

<! ###############Advanced Planning Submenu###################> <! ###############Services###################> <! ###############Services Submenu###################> <! ###############Resources Submenu###################> <! #################CONTACT US #########################>
---
Recommended Links


April's Flowers

Crescent Urns/Memorials <! #### End Of Menu Include ########>
<!################## PAGE BODY BEGIN ###################>
About Us
Family History

John Quint & Sons Funeral Home was established in 1923 by John F. Quint, Sr. Since its founding, it has been one of the most respected funeral homes in the Central Ohio area.

Born Giovanni Francesco Quintieri in 1891 in Troia, Foggia, Italy. When he was four years old, his family immigrated to America and changed their name to Quint. After devoting many years to the Columbus Citizen Journal, John entered the Columbus School for Embalmers in 1922. A year later he received his license to practice and began his business.
One of the main reasons that he established John Quint & Sons Funeral home was to provide services for the Italian Catholic Community. His practice originated at 669 Delaware Ave, but by 1937 the high demand for his services insisted that he expand his business and he moved to 1177 West 5th Avenue.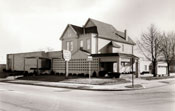 The funeral home is family owned and operated. Anna Quint Treboni (2nd generation) and Anthony L. Treboni (3rd generation) are here to serve the central Ohio area and carry on John F. Quint's Legacy.
*Anthony L. Treboni Third Gereration Licenced Funeral Director.
*Anna Quint Treboni <! ############### PAGE BODY ENDS ########################>